Domtar Corp (UFS) to Issue Quarterly Dividend of $0.42 on January 15th
Domtar Corp (TSE:UFS) (NYSE:UFS) declared a quarterly dividend on Friday, December 29th, TickerTech reports. Shareholders of record on Monday, January 15th will be given a dividend of 0.415 per share on Monday, January 15th. This represents a $1.66 annualized dividend and a yield of 2.65%. The ex-dividend date is Friday, December 29th.
Shares of Domtar (TSE UFS) traded down C$0.16 during trading on Thursday, hitting C$62.60. 18,434 shares of the stock traded hands, compared to its average volume of 31,926. Domtar has a fifty-two week low of C$46.97 and a fifty-two week high of C$64.35. The firm has a market cap of $3,960.00, a PE ratio of 17.63 and a beta of 1.18.
Several research analysts have recently issued reports on UFS shares. National Bank Financial upped their target price on shares of Domtar to C$59.00 and gave the company a "sector perform" rating in a report on Tuesday, October 31st. Scotiabank restated a "sector perform" rating and issued a C$52.50 target price on shares of Domtar in a report on Tuesday, October 31st. Three analysts have rated the stock with a hold rating and two have issued a buy rating to the stock. The stock currently has a consensus rating of "Hold" and a consensus target price of C$59.70.
COPYRIGHT VIOLATION NOTICE: This story was first reported by Daily Political and is the property of of Daily Political. If you are viewing this story on another website, it was illegally copied and reposted in violation of international trademark and copyright legislation. The correct version of this story can be viewed at https://www.dailypolitical.com/2017/12/28/domtar-corp-ufs-to-issue-quarterly-dividend-of-0-42-on-january-15th.html.
Domtar Company Profile
Domtar Corporation designs, manufactures, markets, and distributes communication papers, specialty and packaging papers, and absorbent hygiene products in the United States, Canada, Europe, Asia, and internationally. It operates in two segments, Pulp and Paper, and Personal Care. The company provides business papers, including copy and electronic imaging papers that are used with ink jet and laser printers, photocopiers, and plain-paper fax machines, as well as computer papers, preprinted forms, and digital papers for office and home use.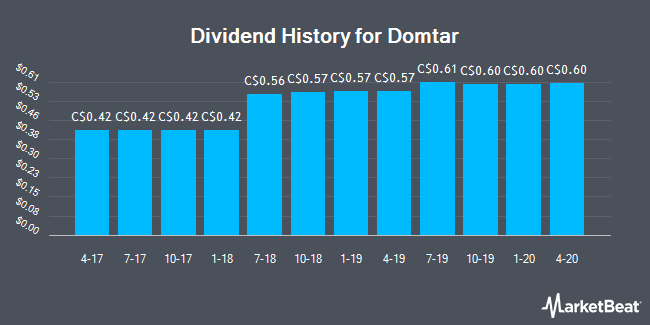 Receive News & Ratings for Domtar Daily - Enter your email address below to receive a concise daily summary of the latest news and analysts' ratings for Domtar and related companies with MarketBeat.com's FREE daily email newsletter.