Zacks: Brokerages Expect Conifer Holdings Inc (CNFR) to Announce -$0.01 EPS
Equities research analysts expect that Conifer Holdings Inc (NASDAQ:CNFR) will post earnings per share (EPS) of ($0.01) for the current fiscal quarter, according to Zacks. Two analysts have issued estimates for Conifer's earnings, with estimates ranging from ($0.03) to $0.01. Conifer reported earnings of ($0.56) per share in the same quarter last year, which would suggest a positive year over year growth rate of 98.2%. The business is scheduled to announce its next earnings results on Wednesday, March 7th.
According to Zacks, analysts expect that Conifer will report full year earnings of ($2.87) per share for the current year, with EPS estimates ranging from ($2.91) to ($2.82). For the next financial year, analysts expect that the firm will report earnings of $0.28 per share, with EPS estimates ranging from $0.25 to $0.30. Zacks' earnings per share averages are an average based on a survey of research analysts that that provide coverage for Conifer.
Separately, Boenning Scattergood reiterated a "hold" rating on shares of Conifer in a research report on Thursday, November 9th.
Conifer (CNFR) opened at $5.80 on Friday. The company has a debt-to-equity ratio of 0.55, a quick ratio of 0.54 and a current ratio of 0.54. Conifer has a 52-week low of $5.30 and a 52-week high of $8.20. The stock has a market capitalization of $48.56, a P/E ratio of -1.70 and a beta of 1.01.
In other Conifer news, Director Mark Mccammon sold 97,319 shares of the stock in a transaction on Wednesday, December 20th. The stock was sold at an average price of $5.78, for a total transaction of $562,503.82. Following the transaction, the director now owns 9,000 shares of the company's stock, valued at approximately $52,020. The sale was disclosed in a filing with the SEC, which is available at the SEC website. In the last 90 days, insiders sold 153,000 shares of company stock worth $900,349. Insiders own 45.50% of the company's stock.
TRADEMARK VIOLATION WARNING: "Zacks: Brokerages Expect Conifer Holdings Inc (CNFR) to Announce -$0.01 EPS" was originally posted by Daily Political and is owned by of Daily Political. If you are accessing this piece on another domain, it was stolen and republished in violation of United States and international copyright laws. The correct version of this piece can be viewed at https://www.dailypolitical.com/2017/12/29/zacks-brokerages-expect-conifer-holdings-inc-cnfr-to-announce-0-01-eps.html.
Conifer Company Profile
Conifer Holdings, Inc is an insurance holding company. Through its insurance company subsidiaries, the Company offers insurance coverage in both specialty commercial and specialty personal product lines. It operates through two segments: commercial lines and personal lines. It is engaged in underwriting and marketing insurance coverage, and administering claims processing for such policies.
Get a free copy of the Zacks research report on Conifer (CNFR)
For more information about research offerings from Zacks Investment Research, visit Zacks.com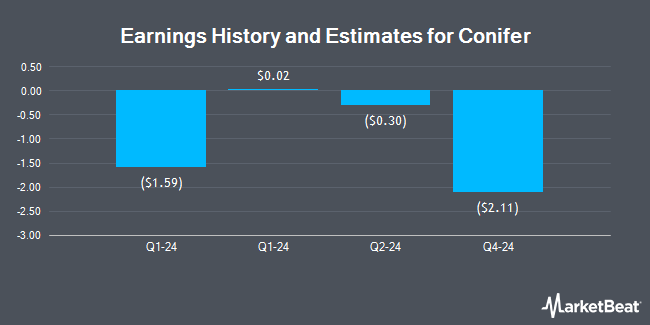 Receive News & Ratings for Conifer Daily - Enter your email address below to receive a concise daily summary of the latest news and analysts' ratings for Conifer and related companies with MarketBeat.com's FREE daily email newsletter.