Watsco Inc to Issue Quarterly Dividend of $1.25 (WSO)
Watsco Inc (NYSE:WSO) declared a quarterly dividend on Tuesday, January 2nd, RTT News reports. Stockholders of record on Tuesday, January 16th will be given a dividend of 1.25 per share by the construction company on Wednesday, January 31st. This represents a $5.00 annualized dividend and a dividend yield of 2.91%. The ex-dividend date is Friday, January 12th.
Watsco has raised its dividend payment by an average of 32.0% per year over the last three years and has raised its dividend every year for the last 4 years. Watsco has a dividend payout ratio of 89.4% indicating that its dividend is currently covered by earnings, but may not be in the future if the company's earnings tumble. Equities analysts expect Watsco to earn $6.36 per share next year, which means the company should continue to be able to cover its $5.00 annual dividend with an expected future payout ratio of 78.6%.
Watsco (NYSE:WSO) opened at $171.69 on Thursday. Watsco has a 52 week low of $134.08 and a 52 week high of $174.84. The company has a quick ratio of 1.42, a current ratio of 3.13 and a debt-to-equity ratio of 0.21. The stock has a market capitalization of $6,140.00, a P/E ratio of 31.50 and a beta of 0.83.
Watsco (NYSE:WSO) last released its quarterly earnings data on Wednesday, October 25th. The construction company reported $1.82 earnings per share (EPS) for the quarter, missing the Thomson Reuters' consensus estimate of $1.95 by ($0.13). Watsco had a net margin of 4.46% and a return on equity of 15.00%. The firm had revenue of $1.23 billion during the quarter, compared to analyst estimates of $1.26 billion. During the same period in the prior year, the company earned $1.78 EPS. The business's quarterly revenue was down .9% compared to the same quarter last year. analysts expect that Watsco will post 5.59 EPS for the current fiscal year.
A number of analysts have weighed in on WSO shares. Zacks Investment Research downgraded shares of Watsco from a "buy" rating to a "hold" rating in a research report on Thursday, October 5th. Morgan Stanley increased their target price on shares of Watsco from $151.00 to $156.00 and gave the company an "underweight" rating in a research report on Thursday, October 26th. Finally, KeyCorp reissued a "buy" rating on shares of Watsco in a research report on Friday, November 17th. One investment analyst has rated the stock with a sell rating, three have issued a hold rating and four have given a buy rating to the company. The stock has a consensus rating of "Hold" and an average price target of $160.40.
In other Watsco news, SVP Barry S. Logan sold 3,246 shares of the stock in a transaction that occurred on Wednesday, November 22nd. The shares were sold at an average price of $164.30, for a total transaction of $533,317.80. Following the completion of the sale, the senior vice president now owns 15,800 shares of the company's stock, valued at approximately $2,595,940. The transaction was disclosed in a legal filing with the Securities & Exchange Commission, which is accessible through the SEC website. Corporate insiders own 13.93% of the company's stock.
COPYRIGHT VIOLATION WARNING: This article was originally published by Daily Political and is the sole property of of Daily Political. If you are accessing this article on another site, it was illegally stolen and republished in violation of US & international trademark & copyright legislation. The original version of this article can be viewed at https://www.dailypolitical.com/2018/01/11/watsco-inc-to-issue-quarterly-dividend-of-1-25-wso.html.
About Watsco
Watsco, Inc is a distributor of air conditioning, heating and refrigeration equipment, and related parts and supplies (HVAC/R) in the HVAC/R distribution industry in North America. As of December 31, 2016, the Company sold a range of non-equipment products, representing more than 300,000 stock keeping units, including parts, ductwork, air movement products, insulation, tools, installation supplies, thermostats and air quality products.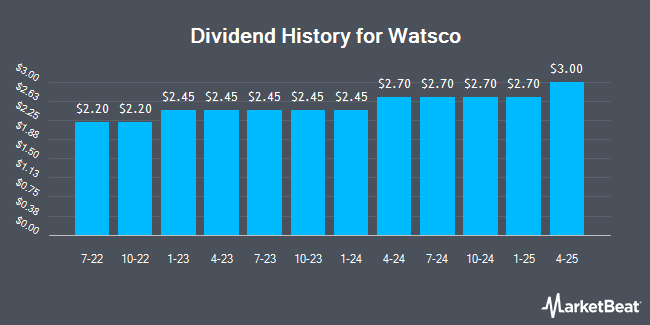 Receive News & Ratings for Watsco Daily - Enter your email address below to receive a concise daily summary of the latest news and analysts' ratings for Watsco and related companies with MarketBeat.com's FREE daily email newsletter.