Atria Investments LLC Has $1.63 Million Position in McKesson Co. (MCK)
Atria Investments LLC increased its stake in shares of McKesson Co. (NYSE:MCK) by 18.0% during the fourth quarter, HoldingsChannel reports. The institutional investor owned 10,448 shares of the company's stock after acquiring an additional 1,597 shares during the quarter. Atria Investments LLC's holdings in McKesson were worth $1,629,000 at the end of the most recent quarter.
A number of other institutional investors also recently made changes to their positions in MCK. WFG Advisors LP lifted its position in McKesson by 5.0% during the second quarter. WFG Advisors LP now owns 859 shares of the company's stock worth $141,000 after buying an additional 41 shares in the last quarter. Wealthcare Advisory Partners LLC purchased a new position in McKesson during the third quarter worth approximately $155,000. CWH Capital Management Inc. purchased a new position in McKesson during the second quarter worth approximately $165,000. Biltmore Wealth Management LLC purchased a new stake in McKesson in the third quarter valued at $206,000. Finally, BRYN MAWR TRUST Co purchased a new stake in McKesson in the second quarter valued at $208,000. Hedge funds and other institutional investors own 87.91% of the company's stock.
In related news, Chairman John H. Hammergren sold 65,000 shares of the business's stock in a transaction on Thursday, December 14th. The stock was sold at an average price of $160.00, for a total transaction of $10,400,000.00. The transaction was disclosed in a legal filing with the Securities & Exchange Commission, which is available through this hyperlink. Insiders own 1.20% of the company's stock.
A number of equities research analysts have commented on MCK shares. Cowen upgraded McKesson from a "market perform" rating to an "outperform" rating and lifted their target price for the company from $176.00 to $189.00 in a research report on Tuesday, October 10th. Needham & Company LLC set a $179.00 target price on McKesson and gave the company a "buy" rating in a research report on Monday, October 16th. Jefferies Group set a $165.00 target price on McKesson and gave the company a "hold" rating in a research report on Wednesday, October 18th. Mizuho set a $168.00 target price on McKesson and gave the company a "hold" rating in a research report on Tuesday, October 24th. Finally, Royal Bank of Canada restated a "hold" rating and issued a $170.00 target price on shares of McKesson in a research report on Friday, October 27th. Two analysts have rated the stock with a sell rating, seven have assigned a hold rating and ten have issued a buy rating to the stock. McKesson currently has a consensus rating of "Hold" and a consensus target price of $174.85.
Shares of McKesson Co. (NYSE:MCK) opened at $170.36 on Friday. The company has a quick ratio of 0.61, a current ratio of 1.05 and a debt-to-equity ratio of 0.66. The stock has a market capitalization of $35,520.00, a price-to-earnings ratio of 8.07, a P/E/G ratio of 1.76 and a beta of 1.23. McKesson Co. has a 1-year low of $133.82 and a 1-year high of $173.84.
McKesson (NYSE:MCK) last posted its quarterly earnings data on Thursday, October 26th. The company reported $3.28 earnings per share (EPS) for the quarter, beating the Thomson Reuters' consensus estimate of $2.78 by $0.50. McKesson had a return on equity of 24.87% and a net margin of 2.24%. The firm had revenue of $52.06 billion for the quarter, compared to the consensus estimate of $51.69 billion. During the same quarter in the previous year, the business earned $2.94 EPS. The company's quarterly revenue was up 4.2% compared to the same quarter last year. research analysts forecast that McKesson Co. will post 12.26 earnings per share for the current fiscal year.
The business also recently announced a quarterly dividend, which was paid on Tuesday, January 2nd. Investors of record on Friday, December 1st were paid a dividend of $0.34 per share. The ex-dividend date was Thursday, November 30th. This represents a $1.36 annualized dividend and a yield of 0.80%. McKesson's payout ratio is 6.44%.
TRADEMARK VIOLATION NOTICE: This story was first published by Daily Political and is the property of of Daily Political. If you are accessing this story on another publication, it was stolen and reposted in violation of international copyright & trademark laws. The correct version of this story can be viewed at https://www.dailypolitical.com/2018/01/20/atria-investments-llc-has-1-63-million-position-in-mckesson-co-mck.html.
McKesson Profile
McKesson Corporation is a healthcare supply chain management solutions, retail pharmacy, community oncology and specialty care, and healthcare information technology company. The Company provides medicines, medical products and healthcare services by partnering with pharmaceutical manufacturers, providers, pharmacies, governments and other organizations in healthcare.
Want to see what other hedge funds are holding MCK? Visit HoldingsChannel.com to get the latest 13F filings and insider trades for McKesson Co. (NYSE:MCK).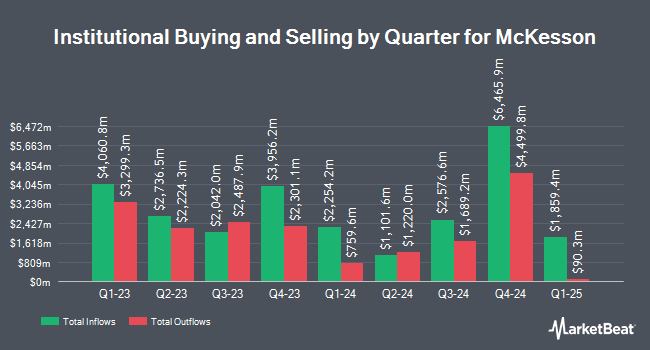 Receive News & Ratings for McKesson Daily - Enter your email address below to receive a concise daily summary of the latest news and analysts' ratings for McKesson and related companies with MarketBeat.com's FREE daily email newsletter.