TD Securities Boosts Canadian Pacific Railway (CP) Price Target to C$250.00
Canadian Pacific Railway (TSE:CP) (NYSE:CP) had its price target upped by TD Securities from C$240.00 to C$250.00 in a research note published on Friday morning. They currently have a hold rating on the stock.
Other analysts also recently issued research reports about the company. BMO Capital Markets reissued an outperform rating and issued a C$245.00 price objective on shares of Canadian Pacific Railway in a research note on Thursday, November 9th. Raymond James Financial boosted their price objective on Canadian Pacific Railway from C$230.00 to C$245.00 in a research note on Thursday, October 19th. JPMorgan Chase & Co. boosted their price objective on Canadian Pacific Railway from C$262.00 to C$265.00 in a research note on Wednesday, October 18th. Macquarie set a C$250.00 price objective on Canadian Pacific Railway and gave the stock an outperform rating in a research note on Friday, January 12th. Finally, UBS Group dropped their price objective on Canadian Pacific Railway from C$270.00 to C$266.00 in a research note on Friday. Three investment analysts have rated the stock with a hold rating and seven have assigned a buy rating to the stock. Canadian Pacific Railway currently has an average rating of Buy and a consensus price target of C$249.54.
Shares of Canadian Pacific Railway (TSE CP) opened at C$231.66 on Friday. Canadian Pacific Railway has a 12 month low of C$189.57 and a 12 month high of C$234.97. The company has a market capitalization of $33,580.00, a price-to-earnings ratio of 14.07 and a beta of 0.84.
The business also recently announced a quarterly dividend, which will be paid on Monday, January 29th. Stockholders of record on Friday, December 29th will be given a dividend of $0.5625 per share. This represents a $2.25 dividend on an annualized basis and a dividend yield of 0.97%. The ex-dividend date is Thursday, December 28th. Canadian Pacific Railway's dividend payout ratio (DPR) is presently 12.91%.
In other news, insider John Kenneth Brooks sold 600 shares of the business's stock in a transaction on Monday, December 11th. The stock was sold at an average price of C$229.35, for a total transaction of C$137,610.00.
TRADEMARK VIOLATION WARNING: This piece was originally reported by Daily Political and is owned by of Daily Political. If you are viewing this piece on another website, it was illegally stolen and reposted in violation of US & international trademark and copyright law. The correct version of this piece can be read at https://www.dailypolitical.com/2018/01/22/td-securities-boosts-canadian-pacific-railway-cp-price-target-to-c250-00.html.
Canadian Pacific Railway Company Profile
Canadian Pacific Railway Limited, together with its subsidiaries, owns and operates a transcontinental freight railway in Canada and the United States. The Company operates through rail transportation segment. The Company's transports bulk commodities, merchandise freight, and intermodal traffic over a network of approximately 12,400 miles.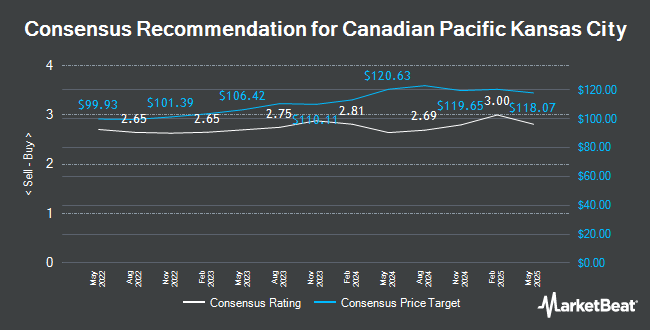 Receive News & Ratings for Canadian Pacific Railway Daily - Enter your email address below to receive a concise daily summary of the latest news and analysts' ratings for Canadian Pacific Railway and related companies with MarketBeat.com's FREE daily email newsletter.