Bristow Group (BRS) to Release Quarterly Earnings on Thursday
Bristow Group (NYSE:BRS) is set to announce its earnings results after the market closes on Thursday, February 8th. Analysts expect the company to announce earnings of ($0.65) per share for the quarter.
Bristow Group (BRS) opened at $15.15 on Wednesday. The firm has a market cap of $535.79, a PE ratio of -2.86 and a beta of 3.15. Bristow Group has a 1 year low of $6.21 and a 1 year high of $21.00. The company has a debt-to-equity ratio of 0.97, a current ratio of 1.34 and a quick ratio of 1.02.
In other Bristow Group news, insider Jonathan Baliff purchased 2,000 shares of the stock in a transaction that occurred on Thursday, November 30th. The shares were acquired at an average cost of $14.84 per share, with a total value of $29,680.00. Following the completion of the transaction, the insider now owns 69,344 shares in the company, valued at $1,029,064.96. The purchase was disclosed in a document filed with the Securities & Exchange Commission, which can be accessed through this hyperlink. 10.00% of the stock is currently owned by company insiders.
Several equities analysts have recently weighed in on BRS shares.
Zacks Investment Research
lowered shares of Bristow Group from a "buy" rating to a "sell" rating in a research report on Tuesday, October 31st. Barclays raised their price target on shares of Bristow Group from $10.00 to $16.00 and gave the stock an "equal weight" rating in a research report on Tuesday, November 14th. One analyst has rated the stock with a sell rating and six have issued a hold rating to the company. The company currently has a consensus rating of "Hold" and a consensus target price of $12.25.
COPYRIGHT VIOLATION NOTICE: This news story was first reported by Daily Political and is owned by of Daily Political. If you are reading this news story on another site, it was copied illegally and reposted in violation of US and international trademark and copyright law. The correct version of this news story can be viewed at https://www.dailypolitical.com/2018/02/07/bristow-group-brs-to-release-quarterly-earnings-on-thursday.html.
About Bristow Group
Bristow Group Inc is an industrial aviation services provider and helicopter service provider to the offshore energy industry. The Industrial Aviation Services segment's operations are conducted primarily through four regions: Europe Caspian, Africa, Americas and Asia Pacific. The Europe Caspian region consists of all its operations and affiliates in Europe and Central Asia, including Norway, the United Kingdom and Turkmenistan.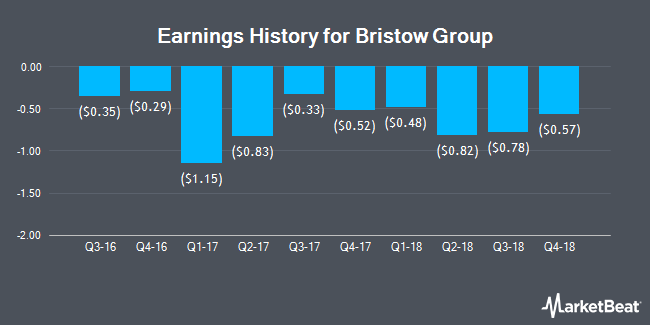 Receive News & Ratings for Bristow Group Daily - Enter your email address below to receive a concise daily summary of the latest news and analysts' ratings for Bristow Group and related companies with MarketBeat.com's FREE daily email newsletter.