Raymond James Financial Trims Birchcliff Energy (BIR) Target Price to C$5.25
Birchcliff Energy (TSE:BIR) had its price target reduced by Raymond James Financial from C$6.25 to C$5.25 in a research note released on Monday.
Several other equities analysts have also recently commented on BIR. National Bank Financial reduced their target price on Birchcliff Energy from C$8.00 to C$7.00 and set an outperform rating for the company in a research report on Tuesday, January 9th. BMO Capital Markets cut Birchcliff Energy from an outperform rating to a market perform rating and reduced their target price for the stock from C$7.50 to C$4.00 in a research report on Thursday, January 11th. Finally, CIBC reduced their target price on Birchcliff Energy from C$7.50 to C$6.00 in a research report on Tuesday, January 23rd. One equities research analyst has rated the stock with a hold rating, four have assigned a buy rating and one has given a strong buy rating to the company's stock. Birchcliff Energy currently has a consensus rating of Buy and an average target price of C$8.90.
Birchcliff Energy (TSE:BIR) opened at C$3.20 on Monday. Birchcliff Energy has a 52-week low of C$3.13 and a 52-week high of C$8.37. The company has a market capitalization of $860.65, a PE ratio of -12.80 and a beta of 0.18.
Birchcliff Energy (TSE:BIR) last posted its earnings results on Wednesday, November 8th. The oil and natural gas company reported C$0.04 EPS for the quarter, missing the Thomson Reuters' consensus estimate of C$0.06 by C($0.02). Birchcliff Energy had a negative return on equity of 28.79% and a negative net margin of 112.10%. The business had revenue of C$111.49 million for the quarter, compared to analysts' expectations of C$131.75 million.
COPYRIGHT VIOLATION WARNING: This report was first reported by Daily Political and is owned by of Daily Political. If you are viewing this report on another domain, it was copied illegally and reposted in violation of United States & international trademark and copyright laws. The legal version of this report can be accessed at https://www.dailypolitical.com/2018/02/08/raymond-james-financial-trims-birchcliff-energy-bir-target-price-to-c5-25.html.
About Birchcliff Energy
Birchcliff Energy Ltd. is an intermediate oil and natural gas company. The Company is engaged in the exploration for and the development, production and acquisition of petroleum and natural gas reserves in Western Canada. Its operations are concentrated within core area, the Peace River Arch, which is centered over 90 kilometers northwest of Grande Prairie, Alberta, adjacent to the Alberta/British Columbia border.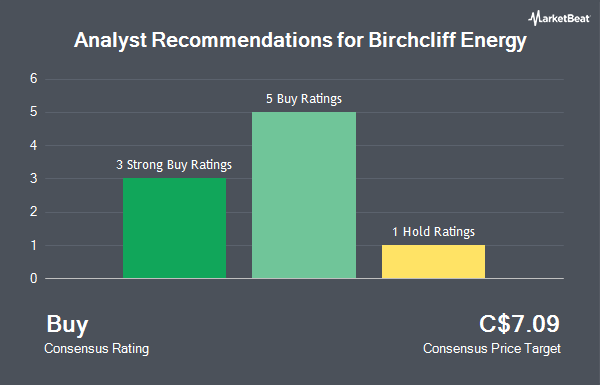 Receive News & Ratings for Birchcliff Energy Daily - Enter your email address below to receive a concise daily summary of the latest news and analysts' ratings for Birchcliff Energy and related companies with MarketBeat.com's FREE daily email newsletter.