Gorman-Rupp Co Declares Quarterly Dividend of $0.13 (GRC)
Gorman-Rupp Co (NYSE:GRC) announced a quarterly dividend on Thursday, January 25th, Zacks reports. Investors of record on Thursday, February 15th will be given a dividend of 0.125 per share by the industrial products company on Friday, March 9th. This represents a $0.50 dividend on an annualized basis and a yield of 1.76%. The ex-dividend date of this dividend is Wednesday, February 14th.
Gorman-Rupp has raised its dividend by an average of 8.3% annually over the last three years and has increased its dividend every year for the last 45 years. Gorman-Rupp has a payout ratio of 45.5% indicating that its dividend is sufficiently covered by earnings.
Gorman-Rupp (NYSE:GRC) traded up $1.53 on Friday, reaching $28.42. The company had a trading volume of 27,344 shares, compared to its average volume of 42,495. Gorman-Rupp has a twelve month low of $23.55 and a twelve month high of $33.50. The company has a market cap of $725.50, a PE ratio of 29.88 and a beta of 1.18.
Gorman-Rupp (NYSE:GRC) last issued its quarterly earnings data on Friday, February 9th. The industrial products company reported $0.31 EPS for the quarter, meeting analysts' consensus estimates of $0.31. Gorman-Rupp had a return on equity of 9.72% and a net margin of 6.25%. The firm had revenue of $94.94 million for the quarter, compared to analyst estimates of $95.39 million. During the same period in the prior year, the firm posted $0.23 EPS. The company's revenue for the quarter was up .8% on a year-over-year basis.
Separately, Zacks Investment Research raised Gorman-Rupp from a "hold" rating to a "strong-buy" rating and set a $36.00 price objective on the stock in a report on Tuesday, October 31st.
COPYRIGHT VIOLATION WARNING: "Gorman-Rupp Co Declares Quarterly Dividend of $0.13 (GRC)" was posted by Daily Political and is the property of of Daily Political. If you are accessing this piece on another site, it was illegally stolen and republished in violation of U.S. & international copyright and trademark law. The correct version of this piece can be viewed at https://www.dailypolitical.com/2018/02/09/gorman-rupp-co-declares-quarterly-dividend-of-0-13-grc.html.
Gorman-Rupp Company Profile
The Gorman-Rupp Company designs, manufactures and sells pumps and pump systems. The Company offers its products for use in dewatering; petroleum original equipment; agriculture; fire protection; heating, ventilating and air conditioning; military, and other liquid-handling applications. The Company operates in the manufacture and international sale of pumps and pump systems segment.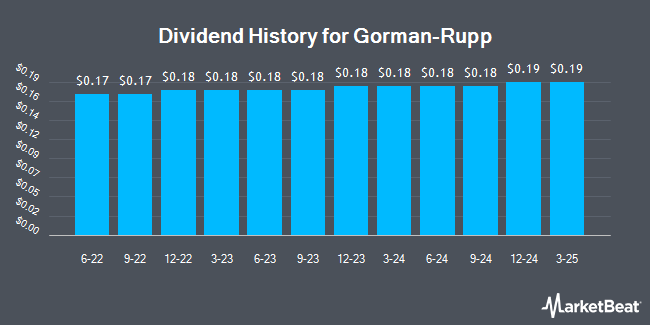 Receive News & Ratings for Gorman-Rupp Daily - Enter your email address below to receive a concise daily summary of the latest news and analysts' ratings for Gorman-Rupp and related companies with MarketBeat.com's FREE daily email newsletter.