Hilltop Holdings Inc. (HTH) Raises Dividend to $0.07 Per Share
Hilltop Holdings Inc. (NYSE:HTH) declared a quarterly dividend on Thursday, January 25th, Zacks reports. Investors of record on Thursday, February 15th will be paid a dividend of 0.07 per share by the financial services provider on Wednesday, February 28th. This represents a $0.28 annualized dividend and a yield of 1.16%. The ex-dividend date of this dividend is Wednesday, February 14th. This is a positive change from Hilltop's previous quarterly dividend of $0.06.
Shares of Hilltop (HTH) traded up $0.15 on Friday, reaching $24.23. 36,599 shares of the company traded hands, compared to its average volume of 413,851. Hilltop has a fifty-two week low of $21.47 and a fifty-two week high of $29.54. The firm has a market capitalization of $2,362.12, a PE ratio of 17.84 and a beta of 1.09. The company has a debt-to-equity ratio of 0.04, a current ratio of 0.99 and a quick ratio of 0.82.
Hilltop (NYSE:HTH) last announced its quarterly earnings results on Thursday, January 25th. The financial services provider reported $0.44 EPS for the quarter, beating analysts' consensus estimates of $0.42 by $0.02. The firm had revenue of $399.15 million during the quarter, compared to analysts' expectations of $390.05 million. Hilltop had a net margin of 7.74% and a return on equity of 8.48%. equities research analysts predict that Hilltop will post 2.05 EPS for the current year.
In related news, Director Gerald J. Ford bought 10,000 shares of the business's stock in a transaction dated Friday, December 22nd. The stock was bought at an average price of $25.08 per share, for a total transaction of $250,800.00. The transaction was disclosed in a document filed with the SEC, which is accessible through
this hyperlink
. Company insiders own 22.60% of the company's stock.
Hilltop announced that its Board of Directors has approved a share repurchase plan on Thursday, January 25th that permits the company to repurchase $50.00 million in shares. This repurchase authorization permits the financial services provider to buy shares of its stock through open market purchases. Stock repurchase plans are typically an indication that the company's board of directors believes its stock is undervalued.
A number of brokerages have commented on HTH. Zacks Investment Research upgraded shares of Hilltop from a "sell" rating to a "hold" rating and set a $30.00 price target for the company in a research note on Wednesday, January 10th. Stephens cut shares of Hilltop from an "overweight" rating to an "equal weight" rating in a research note on Monday, January 29th. ValuEngine upgraded shares of Hilltop from a "hold" rating to a "buy" rating in a research note on Friday, December 1st. Finally, Piper Jaffray Companies reiterated a "hold" rating and issued a $30.00 price target on shares of Hilltop in a research note on Sunday, January 28th. Three analysts have rated the stock with a sell rating, four have assigned a hold rating and two have given a buy rating to the company's stock. The company presently has an average rating of "Hold" and a consensus target price of $33.50.
COPYRIGHT VIOLATION WARNING: "Hilltop Holdings Inc. (HTH) Raises Dividend to $0.07 Per Share" was originally published by Daily Political and is the sole property of of Daily Political. If you are accessing this news story on another domain, it was illegally stolen and reposted in violation of U.S. and international trademark and copyright law. The original version of this news story can be read at https://www.dailypolitical.com/2018/02/09/hilltop-holdings-inc-hth-raises-dividend-to-0-07-per-share.html.
About Hilltop
Hilltop Holdings Inc is a financial holding Company. The Company provides business and consumer banking services from offices located throughout Texas through PlainsCapital Bank (the Bank). It has three operating business units, which include PlainsCapital Corporation (PCC) (banking and mortgage origination), Hilltop Securities Holdings LLC (Securities Holdings) (broker-dealer) and PlainsCapital Company (NLC) (insurance).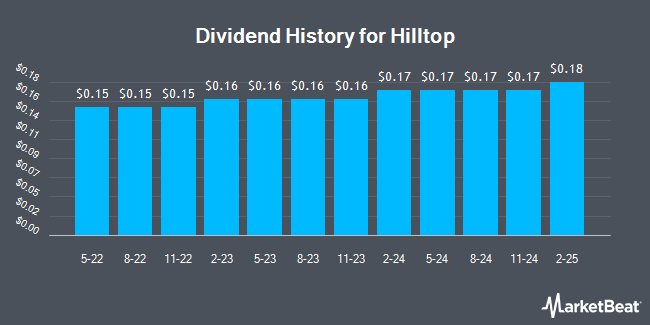 Receive News & Ratings for Hilltop Daily - Enter your email address below to receive a concise daily summary of the latest news and analysts' ratings for Hilltop and related companies with MarketBeat.com's FREE daily email newsletter.