Insider Buying: Majesco (MJCO) Director Purchases 10,000 Shares of Stock
Majesco (NYSEAMERICAN:MJCO) Director Robert P. Restrepo, Jr. purchased 10,000 shares of the stock in a transaction on Friday, February 2nd. The shares were acquired at an average cost of $6.00 per share, with a total value of $60,000.00. Following the transaction, the director now directly owns 25,000 shares in the company, valued at $150,000. The purchase was disclosed in a document filed with the SEC, which is available at the SEC website.
Majesco (NYSEAMERICAN MJCO) opened at $5.35 on Friday. Majesco has a 52-week low of $4.35 and a 52-week high of $6.43. The stock has a market capitalization of $209.30, a P/E ratio of -32.41 and a beta of -2.93.
A hedge fund recently raised its stake in Majesco stock. Vanguard Group Inc. lifted its position in Majesco (NYSEAMERICAN:MJCO) by 3.2% in the 2nd quarter, according to its most recent 13F filing with the SEC. The institutional investor owned 25,547 shares of the software maker's stock after acquiring an additional 794 shares during the period. Vanguard Group Inc. owned 0.07% of Majesco worth $126,000 as of its most recent SEC filing.
A number of research analysts have commented on MJCO shares. TheStreet lowered Majesco from a "c-" rating to a "d+" rating in a research report on Friday, October 13th. Maxim Group reissued a "buy" rating and issued a $10.00 target price on shares of Majesco in a research report on Wednesday, January 31st. Finally,
ValuEngine
raised Majesco from a "sell" rating to a "hold" rating in a research report on Saturday, October 21st.
ILLEGAL ACTIVITY WARNING: "Insider Buying: Majesco (MJCO) Director Purchases 10,000 Shares of Stock" was originally posted by Daily Political and is the property of of Daily Political. If you are reading this article on another publication, it was illegally copied and republished in violation of United States & international trademark and copyright law. The legal version of this article can be read at https://www.dailypolitical.com/2018/02/09/insider-buying-majesco-mjco-director-purchases-10000-shares-of-stock.html.
About Majesco
Majesco is a provider of insurance software, consulting and services for insurance industry. The Company operates through the software solutions provider for the insurance industry segment. The Company offers insurance software solutions for Property and Casualty or General Insurance (P&C), Life, Annuities (L&A), and Pensions and Group or Employee Benefits providers, allowing them to manage policy management, claims management and billing functions.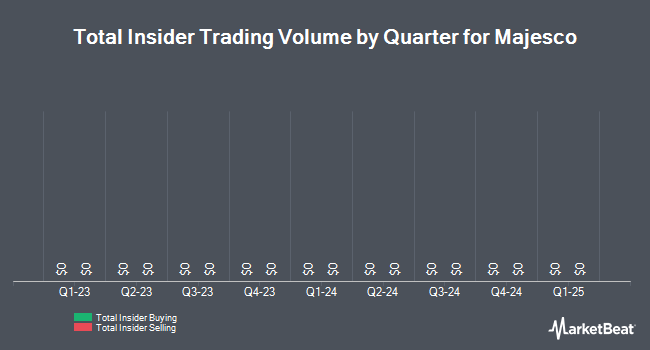 Receive News & Ratings for Majesco Daily - Enter your email address below to receive a concise daily summary of the latest news and analysts' ratings for Majesco and related companies with MarketBeat.com's FREE daily email newsletter.