Liquor Stores N.A. (LIQ) PT Raised to C$14.00
Liquor Stores N.A. (TSE:LIQ) had its target price increased by CIBC from C$11.00 to C$14.00 in a research note published on Tuesday.
A number of other analysts have also recently weighed in on the company. Canaccord Genuity cut Liquor Stores N.A. from a buy rating to a hold rating in a research report on Thursday, February 1st. Royal Bank of Canada increased their price target on Liquor Stores N.A. from C$10.00 to C$11.00 and gave the stock a sector perform rating in a research report on Tuesday. Two investment analysts have rated the stock with a hold rating and four have assigned a buy rating to the company's stock. The stock has an average rating of Buy and an average price target of C$12.60.
Shares of Liquor Stores N.A. (LIQ) opened at C$11.97 on Tuesday. Liquor Stores N.A. has a one year low of C$8.78 and a one year high of C$12.95. The stock has a market capitalization of $332.66, a P/E ratio of -20.29 and a beta of 0.58.
Liquor Stores N.A. (TSE:LIQ) last announced its quarterly earnings data on Thursday, November 9th. The company reported C$0.14 earnings per share (EPS) for the quarter, missing the Thomson Reuters' consensus estimate of C$0.19 by C($0.05). Liquor Stores N.A. had a negative net margin of 1.39% and a negative return on equity of 6.06%. The firm had revenue of C$204.37 million for the quarter, compared to analyst estimates of C$205.15 million.
The business also recently declared a monthly dividend, which was paid on Monday, January 15th. Stockholders of record on Friday, December 29th were given a dividend of $0.09 per share. This represents a $1.08 dividend on an annualized basis and a dividend yield of 9.02%. This is a boost from Liquor Stores N.A.'s previous monthly dividend of $0.03. The ex-dividend date was Thursday, December 28th. Liquor Stores N.A.'s dividend payout ratio is presently -61.02%.
ILLEGAL ACTIVITY NOTICE: This piece of content was originally published by Daily Political and is owned by of Daily Political. If you are accessing this piece of content on another website, it was illegally copied and republished in violation of US & international copyright & trademark laws. The original version of this piece of content can be viewed at https://www.dailypolitical.com/2018/02/09/liquor-stores-n-a-liq-pt-raised-to-c14-00.html.
About Liquor Stores N.A.
Liquor Stores NA Ltd is a Canada-based operator of retail liquor stores. The Company operates stores in Alberta, British Columbia, Alaska and Kentucky. The Company's Liquor Stores primarily operate under the brand names Liquor Depot and Wine and Beyond in Alberta; Liquor Depot and Wine Cellar in British Columbia; Brown Jug in Alaska and The Ultimate Party Source in Kentucky.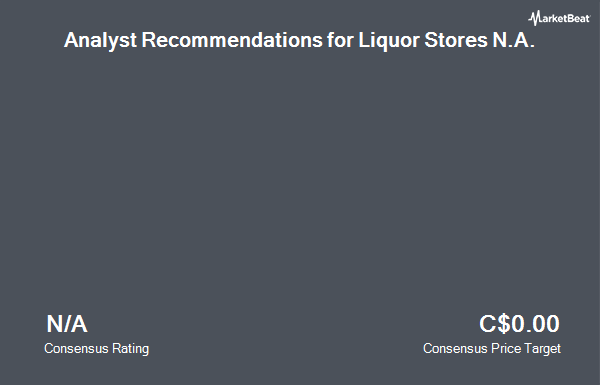 Receive News & Ratings for Liquor Stores N.A. Daily - Enter your email address below to receive a concise daily summary of the latest news and analysts' ratings for Liquor Stores N.A. and related companies with MarketBeat.com's FREE daily email newsletter.