Mullen Group (MTL) Upgraded at National Bank Financial
National Bank Financial upgraded shares of Mullen Group (TSE:MTL) from a sector perform rating to an outperform rating in a research note issued to investors on Thursday. The brokerage currently has C$16.50 target price on the stock.
MTL has been the subject of a number of other reports. Scotiabank cut Mullen Group from an outperform rating to a sector perform rating and decreased their price objective for the stock from C$18.00 to C$17.50 in a research report on Thursday, October 12th. Canaccord Genuity reduced their price target on Mullen Group from C$19.00 to C$18.00 in a report on Friday, October 27th. TD Securities reissued a hold rating and issued a C$18.00 price target on shares of Mullen Group in a report on Tuesday, October 31st. Industrial Alliance Securities reduced their price target on Mullen Group from C$20.00 to C$19.00 and set a strong-buy rating for the company in a report on Tuesday, December 12th. Finally, CIBC reduced their price target on Mullen Group from C$19.00 to C$18.00 in a report on Thursday, December 14th. Four investment analysts have rated the stock with a hold rating, two have issued a buy rating and one has assigned a strong buy rating to the company's stock. The company has a consensus rating of Buy and a consensus target price of C$17.08.
Mullen Group (MTL) traded down C$0.38 on Thursday, reaching C$14.44. The company had a trading volume of 80,834 shares, compared to its average volume of 117,965. Mullen Group has a 1 year low of C$14.22 and a 1 year high of C$17.62. The firm has a market cap of $1,540.00, a price-to-earnings ratio of 25.44 and a beta of 0.25.
The company also recently disclosed a monthly dividend, which will be paid on Thursday, February 15th. Investors of record on Wednesday, January 31st will be issued a dividend of $0.05 per share. The ex-dividend date is Tuesday, January 30th. This is a boost from Mullen Group's previous monthly dividend of $0.03. This represents a $0.60 annualized dividend and a yield of 4.16%. Mullen Group's payout ratio is currently 68.42%.
COPYRIGHT VIOLATION NOTICE: This story was first posted by Daily Political and is the property of of Daily Political. If you are accessing this story on another site, it was illegally stolen and reposted in violation of U.S. & international copyright & trademark law. The legal version of this story can be viewed at https://www.dailypolitical.com/2018/02/09/mullen-group-mtl-upgraded-at-national-bank-financial.html.
About Mullen Group
Mullen Group Ltd is a Canada-based supplier of trucking and logistics services. It operates through two operating segments: Trucking/Logistics and Oilfield Services. The Trucking/Logistics segment consists of over 10 Business Units, offering a range of truckload and less-than-truckload (LTL) general freight services to customers in Canada and the United States, such as transporting goods, including general freight; commodities, such as cable, pipe and steel; over-dimensional loads, such as heavy equipment and compressors, and dry bulk commodities, such as cement and frac sand.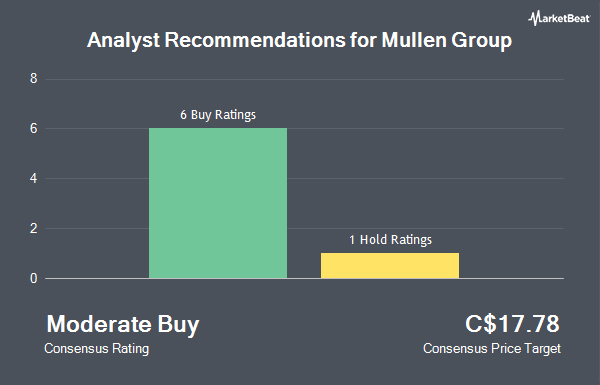 Receive News & Ratings for Mullen Group Daily - Enter your email address below to receive a concise daily summary of the latest news and analysts' ratings for Mullen Group and related companies with MarketBeat.com's FREE daily email newsletter.