Royal Dutch Shell (RDS.A) Stock Rating Upgraded by Zacks Investment Research
Royal Dutch Shell (NYSE:RDS.A) was upgraded by Zacks Investment Research from a "hold" rating to a "buy" rating in a report issued on Wednesday. The firm presently has a $74.00 price objective on the energy company's stock. Zacks Investment Research's target price would indicate a potential upside of 17.03% from the company's previous close.
According to Zacks, "Buy-rated Royal Dutch Shell's shares have outperformed the Zacks Oil & Gas International Integrated industry over the last year (+29.1% vs. +14.2%). The performance was supported by the company's impressive earnings surprise history, having surpassed expectations in three of the trailing four quarters. Shell ended 2017 on a solid note with the integrated behemoth's fourth-quarter upstream unit profit soaring from the year-ago period thanks to steady commodity price recovery. The Hague-based supermajor was also able to reduce operating costs on increased synergies with BG Group, apart from progressing on its large divestment program. Importantly, the Anglo-Dutch company generated healthy cash flows yet again, allowing it to cut debt and cover its cash dividend. Consequently, we think Shell offers substantial upside potential from the current price levels and view it as a preferred energy play to own now."
Other analysts also recently issued research reports about the company. Piper Jaffray Companies reissued a "buy" rating on shares of Royal Dutch Shell in a research note on Thursday, October 19th. ValuEngine raised Royal Dutch Shell from a "hold" rating to a "buy" rating in a research note on Friday, February 2nd. Howard Weil upgraded Royal Dutch Shell to an "outperform" rating in a report on Friday, December 22nd. Scotiabank restated a "hold" rating and issued a $67.00 price objective on shares of Royal Dutch Shell in a report on Friday, December 1st. Finally, Macquarie upgraded Royal Dutch Shell from a "neutral" rating to an "outperform" rating in a report on Monday, December 4th. One investment analyst has rated the stock with a sell rating, three have assigned a hold rating and thirteen have given a buy rating to the company's stock. Royal Dutch Shell currently has a consensus rating of "Buy" and an average target price of $63.78.
Shares of Royal Dutch Shell (
NYSE:RDS.A
) opened at $63.23 on Wednesday. Royal Dutch Shell has a 12 month low of $50.32 and a 12 month high of $72.43. The stock has a market capitalization of $267,970.00, a PE ratio of 20.20, a price-to-earnings-growth ratio of 1.69 and a beta of 1.10. The company has a quick ratio of 0.88, a current ratio of 1.20 and a debt-to-equity ratio of 0.37.
TRADEMARK VIOLATION WARNING: This report was originally published by Daily Political and is the sole property of of Daily Political. If you are reading this report on another domain, it was copied illegally and reposted in violation of international trademark & copyright laws. The correct version of this report can be read at https://www.dailypolitical.com/2018/02/09/royal-dutch-shell-rds-a-stock-rating-upgraded-by-zacks-investment-research.html.
About Royal Dutch Shell
The Royal Dutch Shell plc explores for crude oil and natural gas around the world, both in conventional fields and from sources, such as tight rock, shale and coal formations. The Company's segments include Integrated Gas, Upstream, Downstream and Corporate. The Integrated Gas segment is engaged in the liquefaction and transportation of gas and the conversion of natural gas to liquids to provide fuels and other products, as well as projects with an integrated activity, ranging from producing to commercializing gas.
Get a free copy of the Zacks research report on Royal Dutch Shell (RDS.A)
For more information about research offerings from Zacks Investment Research, visit Zacks.com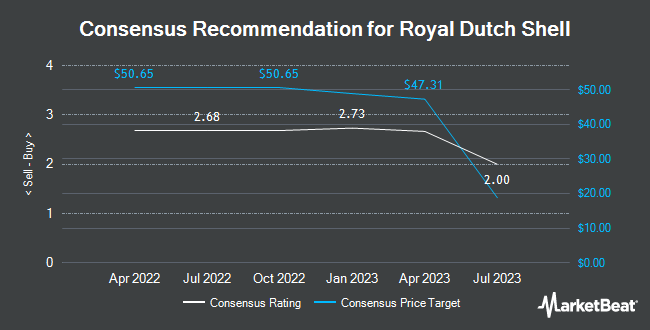 Receive News & Ratings for Royal Dutch Shell Daily - Enter your email address below to receive a concise daily summary of the latest news and analysts' ratings for Royal Dutch Shell and related companies with MarketBeat.com's FREE daily email newsletter.