QuickLogic (QUIK) Posts Earnings Results, Hits Expectations
QuickLogic (NASDAQ:QUIK) posted its quarterly earnings data on Wednesday. The semiconductor company reported ($0.04) earnings per share for the quarter, hitting the Zacks' consensus estimate of ($0.04), Bloomberg Earnings reports. QuickLogic had a negative return on equity of 76.28% and a negative net margin of 120.37%. During the same period in the previous year, the business posted ($0.05) earnings per share.
Shares of QuickLogic (NASDAQ:QUIK) traded up $0.12 on Wednesday, reaching $2.10. The company's stock had a trading volume of 484,170 shares, compared to its average volume of 317,967. QuickLogic has a 12 month low of $1.15 and a 12 month high of $2.48. The company has a current ratio of 2.61, a quick ratio of 2.27 and a debt-to-equity ratio of 0.01. The firm has a market cap of $169.58, a PE ratio of -10.50 and a beta of 0.12.
A number of analysts have commented on the company. Roth Capital reaffirmed a "buy" rating and set a $2.50 price target (up previously from $2.00) on shares of QuickLogic in a research report on Friday, January 19th. Zacks Investment Research cut QuickLogic from a "buy" rating to a "hold" rating and set a $2.00 price target for the company. in a research report on Thursday, January 4th.
An institutional investor recently raised its position in QuickLogic stock. Northern Trust Corp boosted its position in shares of QuickLogic Co. (NASDAQ:QUIK) by 20.1% in the second quarter, according to the company in its most recent filing with the SEC. The firm owned 159,105 shares of the semiconductor company's stock after acquiring an additional 26,599 shares during the quarter. Northern Trust Corp owned about 0.20% of QuickLogic worth $232,000 at the end of the most recent reporting period. 21.73% of the stock is currently owned by hedge funds and other institutional investors.
WARNING: "QuickLogic (QUIK) Posts Earnings Results, Hits Expectations" was posted by Daily Political and is the sole property of of Daily Political. If you are accessing this news story on another site, it was illegally stolen and reposted in violation of United States and international trademark and copyright law. The legal version of this news story can be viewed at https://www.dailypolitical.com/2018/02/14/quicklogic-quik-posts-earnings-results-hits-expectations.html.
QuickLogic Company Profile
QuickLogic Corporation develops and markets semiconductor and software algorithm solutions. The Company's solutions primarily target smartphones, wearable devices, tablets, and the Internet-of-Things (IoT). The Company is a fabless semiconductor provider of flexible sensor processing solutions, ultra-low power display bridges, and ultra-low power Field Programmable Gate Arrays (FPGAs).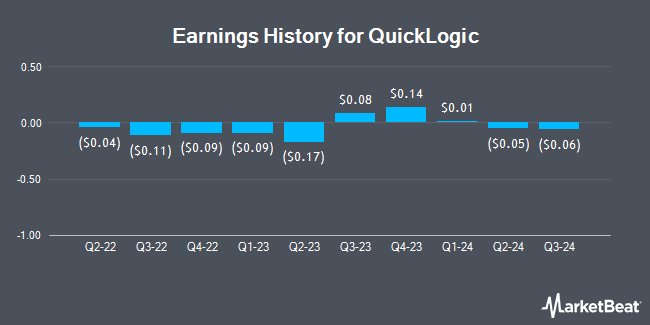 Receive News & Ratings for QuickLogic Daily - Enter your email address below to receive a concise daily summary of the latest news and analysts' ratings for QuickLogic and related companies with MarketBeat.com's FREE daily email newsletter.