Ritchie Bros. Auctioneers Inc (RBA) Forecasted to Earn Q1 2018 Earnings of $0.24 Per Share
Ritchie Bros. Auctioneers Inc (TSE:RBA) (NYSE:RBA) – Research analysts at Northcoast Research issued their Q1 2018 earnings estimates for shares of Ritchie Bros. Auctioneers in a research report issued on Thursday. Northcoast Research analyst J. Healy anticipates that the company will earn $0.24 per share for the quarter. Northcoast Research also issued estimates for Ritchie Bros. Auctioneers' Q2 2018 earnings at $0.49 EPS, Q3 2018 earnings at $0.15 EPS, Q4 2018 earnings at $0.37 EPS, FY2018 earnings at $1.25 EPS and FY2019 earnings at $1.43 EPS.
Separately, National Bank Financial upgraded Ritchie Bros. Auctioneers from a "sector perform" rating to an "outperform" rating and lifted their price objective for the company from C$28.00 to C$39.00 in a research note on Monday, November 20th. One research analyst has rated the stock with a sell rating, four have issued a hold rating and three have assigned a buy rating to the company's stock. Ritchie Bros. Auctioneers has a consensus rating of "Hold" and an average price target of C$38.33.
Ritchie Bros. Auctioneers (
TSE RBA
) opened at C$41.86 on Friday. The stock has a market capitalization of $4,490.00, a PE ratio of 54.36 and a beta of 0.23. Ritchie Bros. Auctioneers has a 52 week low of C$30.63 and a 52 week high of C$44.95.
The business also recently disclosed a quarterly dividend, which will be paid on Friday, March 9th. Stockholders of record on Friday, February 16th will be paid a $0.213 dividend. This represents a $0.85 annualized dividend and a dividend yield of 2.04%. The ex-dividend date is Thursday, February 15th. Ritchie Bros. Auctioneers's payout ratio is presently 88.31%.
TRADEMARK VIOLATION WARNING: This report was originally published by Daily Political and is owned by of Daily Political. If you are viewing this report on another website, it was illegally stolen and republished in violation of US and international trademark & copyright laws. The original version of this report can be accessed at https://www.dailypolitical.com/2018/03/03/ritchie-bros-auctioneers-inc-rba-forecasted-to-earn-q1-2018-earnings-of-0-24-per-share.html.
About Ritchie Bros. Auctioneers
Ritchie Bros Auctioneers Inc is a Canada-based holding company. The Company is an industrial auctioneer and used equipment distributor, selling used equipment and other assets. Its segments include Core Auction, which is a network of auction locations that conduct live, unreserved auctions with both on-site and online bidding, and Other, which includes its EquipmentOne and Mascus International Holding B.V.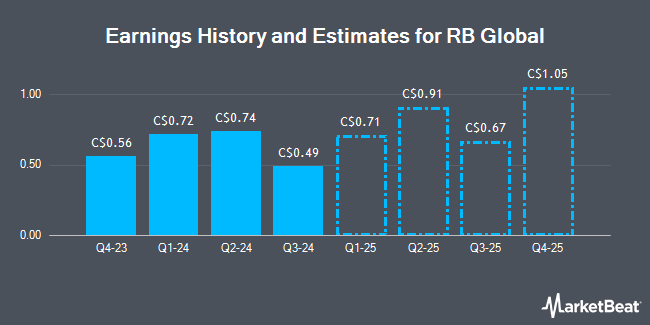 Receive News & Ratings for Ritchie Bros. Auctioneers Daily - Enter your email address below to receive a concise daily summary of the latest news and analysts' ratings for Ritchie Bros. Auctioneers and related companies with MarketBeat.com's FREE daily email newsletter.