Wpp Plc (WPP) Given Average Recommendation of "Buy" by Analysts
Shares of Wpp Plc (LON:WPP) have been given a consensus rating of "Buy" by the twenty brokerages that are presently covering the stock, Marketbeat reports. Ten research analysts have rated the stock with a hold rating and ten have assigned a buy rating to the company. The average 12 month price target among brokerages that have updated their coverage on the stock in the last year is GBX 1,626.17 ($22.47).
Several analysts have issued reports on the company. Beaufort Securities lowered WPP to a "hold" rating and set a GBX 1,300 ($17.96) target price for the company. in a research note on Thursday. Barclays cut their target price on WPP from GBX 1,450 ($20.03) to GBX 1,375 ($19.00) and set an "equal weight" rating for the company in a research note on Friday. Credit Suisse Group cut their target price on WPP from GBX 1,440 ($19.89) to GBX 1,400 ($19.34) and set a "neutral" rating for the company in a research note on Friday. Liberum Capital reaffirmed a "buy" rating and issued a GBX 1,815 ($25.08) target price on shares of WPP in a research note on Wednesday, November 29th. Finally, JPMorgan Chase & Co. set a GBX 1,758 ($24.29) target price on WPP and gave the stock a "buy" rating in a research note on Wednesday, December 6th.
WPP (LON:WPP) traded down GBX 14 ($0.19) during mid-day trading on Friday, hitting GBX 1,266 ($17.49). 9,401,165 shares of the company traded hands, compared to its average volume of 6,340,000. WPP has a one year low of GBX 1,185.73 ($16.38) and a one year high of GBX 1,928.07 ($26.64).
The business also recently disclosed a dividend, which will be paid on Monday, July 9th. Stockholders of record on Thursday, June 14th will be paid a dividend of GBX 37.30 ($0.52) per share. This represents a dividend yield of 2.91%. The ex-dividend date of this dividend is Thursday, June 14th. This is a positive change from WPP's previous dividend of $22.70.
WARNING: This piece of content was originally published by Daily Political and is the property of of Daily Political. If you are viewing this piece of content on another publication, it was illegally stolen and republished in violation of US & international trademark & copyright legislation. The original version of this piece of content can be viewed at https://www.dailypolitical.com/2018/03/03/wpp-plc-wpp-given-average-recommendation-of-buy-by-analysts.html.
WPP Company Profile
WPP plc provides various communications services worldwide. The company operates through four segments: Advertising and Media Investment Management; Data Investment Management; Public Relations & Public Affairs; and Branding & Identity, Healthcare and Specialist Communications. The Advertising and Media Investment Management segment provides advertising services; and media planning and buying, and specialist sponsorship, and branded entertainment services.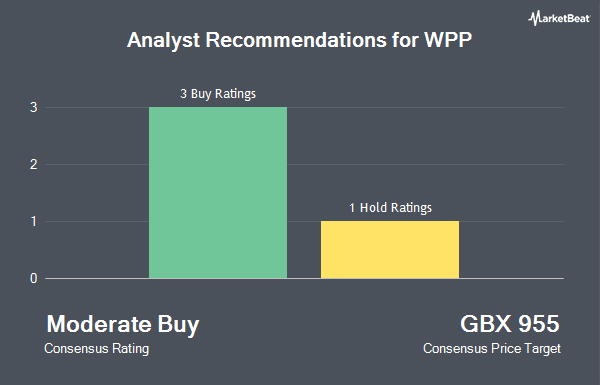 Receive News & Ratings for WPP Daily - Enter your email address below to receive a concise daily summary of the latest news and analysts' ratings for WPP and related companies with MarketBeat.com's FREE daily email newsletter.