8.8% Stake of WSI Industries, Inc. (WSCI) Owned by Dpw Holdings, Inc.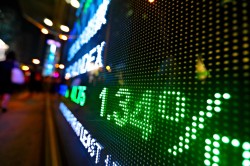 Dpw Holdings, Inc.
recently stated that they own 8.8% of WSI Industries, Inc. (NASDAQ:WSCI) in a Form 13D/A disclosure that was filed with the SEC on Monday, March 5th. The investor owns 260,915 shares of the stock worth $1,356,758. The filing is available through the SEC website at this hyperlink.
Shares of WSI Industries, Inc. (
NASDAQ:WSCI
) traded down $0.15 on Monday, reaching $5.20. The company's stock had a trading volume of 3,700 shares, compared to its average volume of 13,469. The company has a debt-to-equity ratio of 0.46, a quick ratio of 1.49 and a current ratio of 2.34. WSI Industries, Inc. has a 52-week low of $2.80 and a 52-week high of $6.55.
WSI Industries (NASDAQ:WSCI) last announced its quarterly earnings data on Wednesday, December 20th. The industrial products company reported $0.03 EPS for the quarter. The firm had revenue of $7.53 million for the quarter. WSI Industries had a negative return on equity of 3.04% and a negative net margin of 1.28%.
Separately, ValuEngine upgraded WSI Industries from a "hold" rating to a "buy" rating in a research report on Friday, February 2nd.
COPYRIGHT VIOLATION NOTICE: This story was originally published by Daily Political and is owned by of Daily Political. If you are reading this story on another domain, it was illegally copied and reposted in violation of US & international copyright law. The legal version of this story can be read at https://www.dailypolitical.com/2018/03/05/8-8-stake-of-wsi-industries-inc-wsci-owned-by-dpw-holdings-inc.html.
WSI Industries Profile
WSI Industries, Inc is involved in the precision machining and assembly of complex parts and components business. The Company primarily serves a range of markets, including aerospace, avionics, defense, energy and power sports. It offers a range of engineering, design, machining, sourcing, assembly, shipping and project management solutions.
Want to see what other hedge funds are holding WSCI? Visit HoldingsChannel.com to get the latest 13F filings and insider trades for WSI Industries, Inc. (NASDAQ:WSCI).
Receive News & Ratings for WSI Industries Daily - Enter your email address below to receive a concise daily summary of the latest news and analysts' ratings for WSI Industries and related companies with MarketBeat.com's FREE daily email newsletter.