Cobham (COB) Price Target Raised to GBX 133 at Barclays
Cobham (LON:COB) had its price target upped by Barclays from GBX 130 ($1.80) to GBX 133 ($1.84) in a research note published on Friday. They currently have an equal weight rating on the stock.
A number of other research firms have also issued reports on COB. Liberum Capital decreased their price objective on Cobham from GBX 140 ($1.93) to GBX 130 ($1.80) and set a hold rating on the stock in a research note on Friday, January 12th. JPMorgan Chase & Co. reiterated a neutral rating and set a GBX 145 ($2.00) price objective on shares of Cobham in a research note on Thursday, November 16th. Goldman Sachs Group reiterated a sell rating on shares of Cobham in a research note on Monday, December 11th. Kepler Capital Markets reiterated a reduce rating and set a GBX 112 ($1.55) price objective on shares of Cobham in a research note on Monday, February 26th. Finally, UBS Group reiterated a buy rating on shares of Cobham in a research note on Wednesday, February 14th. Three equities research analysts have rated the stock with a sell rating, five have assigned a hold rating and two have assigned a buy rating to the company. Cobham presently has an average rating of Hold and a consensus target price of GBX 130.60 ($1.80).
Shares of Cobham (LON COB) opened at GBX 123.15 ($1.70) on Friday. Cobham has a one year low of GBX 101.93 ($1.41) and a one year high of GBX 150.30 ($2.08). The stock has a market capitalization of $2,940.00 and a price-to-earnings ratio of 4,105.00.
Cobham (LON:COB) last released its quarterly earnings data on Thursday, March 1st. The company reported GBX 6 ($0.08) earnings per share (EPS) for the quarter, beating analysts' consensus estimates of GBX 5.60 ($0.08) by GBX 0.40 ($0.01). Cobham had a return on equity of 4.39% and a net margin of 1.62%. The company had revenue of GBX 205.25 billion for the quarter.
In related news, insider Lyn Colloff sold 1,707 shares of the business's stock in a transaction dated Friday, December 15th. The stock was sold at an average price of GBX 121 ($1.67), for a total transaction of £2,065.47 ($2,853.65).
COPYRIGHT VIOLATION WARNING: This report was first reported by Daily Political and is owned by of Daily Political. If you are viewing this report on another domain, it was copied illegally and reposted in violation of United States & international trademark and copyright laws. The legal version of this report can be accessed at https://www.dailypolitical.com/2018/03/05/cobham-cob-price-target-raised-to-gbx-133-at-barclays.html.
Cobham Company Profile
Cobham plc is a technology and services provider in commercial and defense and security markets. It operates in four segments. The Communications and Connectivity segment provides equipment and solutions to enable connectivity across a range of environments in aerospace, avionics, satellite and radio, wireless and mobile connectivity markets.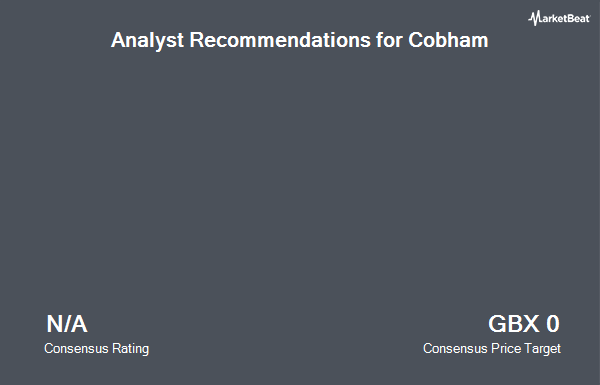 Receive News & Ratings for Cobham Daily - Enter your email address below to receive a concise daily summary of the latest news and analysts' ratings for Cobham and related companies with MarketBeat.com's FREE daily email newsletter.