Homology Medicines Plans $100 Million IPO for March 30th (FIXX)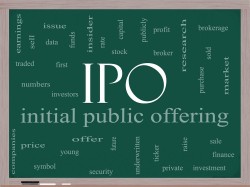 Homology Medicines (FIXX) expects to raise $100 million in an initial public offering on Friday, March 30th, IPO Scoop reports. The company plans to issue 6,700,000 shares at $14.00-$16.00 per share.
The company has a market-cap of $506.2 million.
BofA Merrill Lynch, Cowen and Evercore ISI served as the underwriters for the IPO and BTIG was co-manager.
Homology Medicines provided the following description of their company for its IPO: " We are a genetic medicines company dedicated to transforming the lives of patients suffering from rare genetic diseases with significant unmet medical needs by curing the underlying cause of the disease. Our proprietary platform is designed to utilize our human hematopoietic stem cell derived adeno-associated virus vectors, or AAVHSCs, to precisely and efficiently deliver genetic medicines in vivo either through a gene therapy or nuclease-free gene editing modality across a broad range of genetic disorders. ".
Homology Medicines was founded in 2015 and has 67 employees. The company is located at 45 Wiggins Avenue, Bedford, MA 01730, US and can be reached via phone at (781) 301-7277 or on the web at http://www.homologymedicines.com.
Receive News & Ratings for Homology Medicines Daily - Enter your email address below to receive a concise daily summary of the latest news and analysts' ratings for Homology Medicines and related companies with MarketBeat.com's FREE daily email newsletter.