Exfo Inc (EXFO) Receives Consensus Rating of "Hold" from Analysts
Exfo Inc (NASDAQ:EXFO) (TSE:EXF) has been assigned an average rating of "Hold" from the eight brokerages that are covering the firm, Marketbeat.com reports. Five research analysts have rated the stock with a hold rating, one has issued a buy rating and one has given a strong buy rating to the company. The average twelve-month price target among analysts that have covered the stock in the last year is $4.79.
A number of equities research analysts have weighed in on EXFO shares. TheStreet lowered Exfo from a "b-" rating to a "c+" rating in a report on Tuesday, June 19th. Zacks Investment Research raised Exfo from a "sell" rating to a "hold" rating in a research note on Tuesday, June 12th. Finally, BMO Capital Markets reissued a "hold" rating and set a $4.25 price target on shares of Exfo in a research note on Thursday, July 12th.
EXFO traded down $0.02 during trading on Tuesday, reaching $3.83. The company's stock had a trading volume of 23,629 shares, compared to its average volume of 120,497. Exfo has a 52-week low of $3.16 and a 52-week high of $4.70. The firm has a market capitalization of $212.19 million, a PE ratio of 18.21 and a beta of 0.61. The company has a current ratio of 1.42, a quick ratio of 0.99 and a debt-to-equity ratio of 0.04.
Several large investors have recently made changes to their positions in EXFO. Spark Investment Management LLC acquired a new position in shares of Exfo during the 1st quarter worth approximately $159,000. Fiera Capital Corp raised its holdings in Exfo by 3.2% in the 2nd quarter. Fiera Capital Corp now owns 541,800 shares of the communications equipment provider's stock valued at $1,863,000 after acquiring an additional 16,800 shares during the last quarter. Finally, PenderFund Capital Management Ltd. acquired a new position in Exfo in the 1st quarter valued at $5,206,000. 12.05% of the stock is currently owned by institutional investors and hedge funds.
Exfo Company Profile
EXFO Inc develops, manufactures, and markets smarter network test, monitoring, and analytics solutions for communications service providers, network equipment manufacturers, and Webscale companies. It offers lab and manufacturing testing systems, including lab platforms; network simulation and load testing tools to meet the mobile telecom and VOIP/IMS network test challenges; transport and datacom solutions, such as Ethernet testing, fiber channel testing, DSn/PDH and SONET/SDH testing, synchronization testing, and SONET/SDH, OTN, and multiservice testing solutions; and optical products comprising power meters, light sources and amplifiers, variable attenuators, switch and utility modules, polarization analysis, optical communication analyzers, spectral testing products, bit-error-rate testing products, optical benchtop kits, osics multifunction platform, optical component testers, and tunable filters.
Recommended Story: Investing in Growth Stocks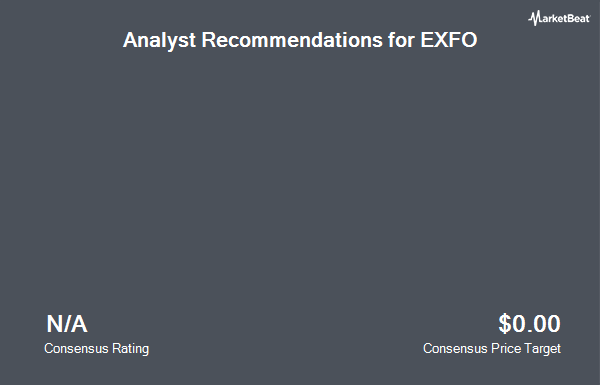 Receive News & Ratings for Exfo Daily - Enter your email address below to receive a concise daily summary of the latest news and analysts' ratings for Exfo and related companies with MarketBeat.com's FREE daily email newsletter.