Secureworks (SCWX) Issues Earnings Results, Beats Estimates By $0.04 EPS
Secureworks (NASDAQ:SCWX) released its quarterly earnings data on Wednesday. The technology company reported ($0.01) EPS for the quarter, beating analysts' consensus estimates of ($0.05) by $0.04, Bloomberg Earnings reports. Secureworks had a negative return on equity of 4.71% and a negative net margin of 5.13%. The firm had revenue of $128.80 million for the quarter, compared to analysts' expectations of $127.62 million. During the same period in the prior year, the firm posted ($0.07) earnings per share. The firm's quarterly revenue was up 10.7% on a year-over-year basis.
NASDAQ:SCWX traded up $0.42 during trading hours on Friday, reaching $13.42. 8,328 shares of the stock were exchanged, compared to its average volume of 74,352. Secureworks has a twelve month low of $7.83 and a twelve month high of $15.88. The stock has a market capitalization of $1.03 billion, a price-to-earnings ratio of -28.42 and a beta of 1.37.
An institutional investor recently raised its position in Secureworks stock. Bank of New York Mellon Corp grew its position in shares of Secureworks Corp (NASDAQ:SCWX) by 34.4% during the second quarter, according to its most recent Form 13F filing with the Securities & Exchange Commission. The institutional investor owned 44,119 shares of the technology company's stock after purchasing an additional 11,281 shares during the period. Bank of New York Mellon Corp owned approximately 0.05% of Secureworks worth $550,000 as of its most recent SEC filing. 8.84% of the stock is owned by hedge funds and other institutional investors.
A number of research analysts recently commented on SCWX shares. UBS Group cut Secureworks from a "neutral" rating to a "sell" rating and set a $11.00 price objective on the stock. in a report on Friday, August 24th. BidaskClub cut Secureworks from a "buy" rating to a "hold" rating in a report on Saturday, May 12th.
ValuEngine
upgraded Secureworks from a "hold" rating to a "buy" rating in a report on Friday, June 8th. Stifel Nicolaus upped their price objective on Secureworks from $9.00 to $10.50 and gave the company a "hold" rating in a report on Thursday, June 7th. Finally,
Zacks Investment Research
upgraded Secureworks from a "sell" rating to a "hold" rating in a report on Thursday, May 31st. Two investment analysts have rated the stock with a sell rating, six have assigned a hold rating and five have given a buy rating to the company. Secureworks presently has a consensus rating of "Hold" and an average price target of $12.20.
Secureworks Company Profile
SecureWorks Corp., through its subsidiaries, provides intelligence-driven information security solutions focused on protecting organizations from cyber-attacks. The company's solutions include managed security, threat intelligence, security and risk consulting, and incident response. Its solutions enable organizations to fortify their cyber defenses to prevent security breaches, detect malicious activity in real time, prioritize and respond to security incidents, and predict emerging threats.
See Also: How Do Tariffs Affect Trade Balances?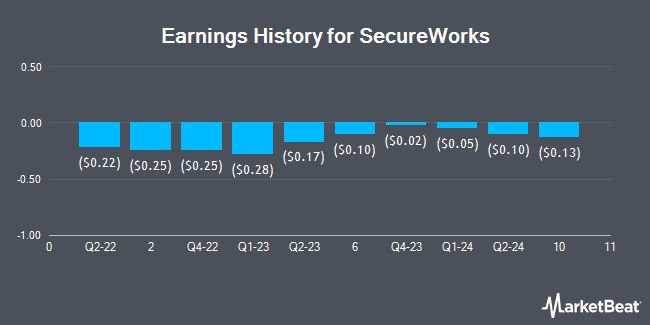 Receive News & Ratings for Secureworks Daily - Enter your email address below to receive a concise daily summary of the latest news and analysts' ratings for Secureworks and related companies with MarketBeat.com's FREE daily email newsletter.