Breedon Group (BREE) Stock Rating Reaffirmed by Numis Securities
Breedon Group (LON:BREE)'s stock had its "buy" rating reissued by stock analysts at Numis Securities in a report issued on Thursday. They currently have a GBX 105 ($1.35) target price on the stock, up from their previous target price of GBX 96 ($1.24). Numis Securities' target price would indicate a potential upside of 35.31% from the stock's current price.
Other analysts have also recently issued reports about the stock. Peel Hunt boosted their price objective on shares of Breedon Group from GBX 92 ($1.19) to GBX 93 ($1.20) and gave the company an "add" rating in a research note on Wednesday. Shore Capital reissued a "buy" rating on shares of Breedon Group in a research note on Wednesday. One investment analyst has rated the stock with a hold rating and five have issued a buy rating to the stock. The company presently has a consensus rating of "Buy" and a consensus price target of GBX 95.22 ($1.23).
Shares of LON BREE opened at GBX 77.60 ($1.00) on Thursday. Breedon Group has a 52-week low of GBX 74 ($0.95) and a 52-week high of GBX 92.50 ($1.19).
About Breedon Group
Breedon Group plc, formerly Breedon Aggregates Limited, is an independent construction materials company. The Company's operations include a cement plant, two cementitious import terminals, approximately 60 quarries, over 30 asphalt plants, over 200 ready-mixed concrete plants and three concrete products plants.
Recommended Story: Stock Symbols, CUSIP and Other Stock Identifiers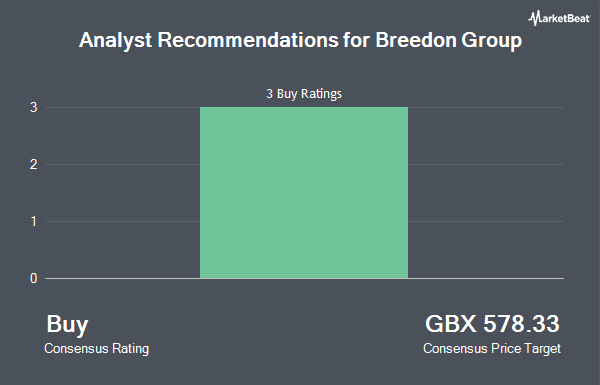 Receive News & Ratings for Breedon Group Daily - Enter your email address below to receive a concise daily summary of the latest news and analysts' ratings for Breedon Group and related companies with MarketBeat.com's FREE daily email newsletter.