Century Communities (CCS) Issues Earnings Results
Century Communities (NYSE:CCS) released its earnings results on Wednesday. The construction company reported $1.10 earnings per share (EPS) for the quarter, beating the Zacks' consensus estimate of $0.88 by $0.22, Fidelity Earnings reports. Century Communities had a return on equity of 14.40% and a net margin of 4.36%.
Shares of NYSE:CCS traded down $0.75 during trading on Friday, hitting $28.00. 8,124 shares of the stock were exchanged, compared to its average volume of 213,976. Century Communities has a 1-year low of $22.10 and a 1-year high of $36.00. The firm has a market capitalization of $871.95 million, a PE ratio of 9.97 and a beta of 0.97. The company has a current ratio of 0.40, a quick ratio of 0.40 and a debt-to-equity ratio of 0.97.
A number of analysts have issued reports on CCS shares. ValuEngine lowered Century Communities from a "hold" rating to a "sell" rating in a report on Wednesday, August 8th. Zacks Investment Research lowered Century Communities from a "hold" rating to a "sell" rating in a report on Tuesday, July 31st. Zelman & Associates began coverage on Century Communities in a report on Wednesday, June 20th. They set a "hold" rating on the stock. Wedbush reissued an "outperform" rating and set a $42.00 price objective on shares of Century Communities in a report on Thursday, June 14th. Finally, TheStreet raised Century Communities from a "c+" rating to a "b" rating in a report on Wednesday, May 16th. One research analyst has rated the stock with a sell rating, two have given a hold rating and five have assigned a buy rating to the company. The company currently has an average rating of "Buy" and an average price target of $37.58.
Century Communities Company Profile
Century Communities, Inc engages in the development, design, construction, marketing, and sale of single-family attached and detached homes in metropolitan areas in California, Colorado, Georgia, Nevada, North Carolina, South Carolina, Tennessee, Texas, Utah, and Washington. It is also involved in the entitlement and development of the underlying land; and the provision of mortgage services and title services to its home buyers.
Featured Story: Stop Order Uses For Individual Investors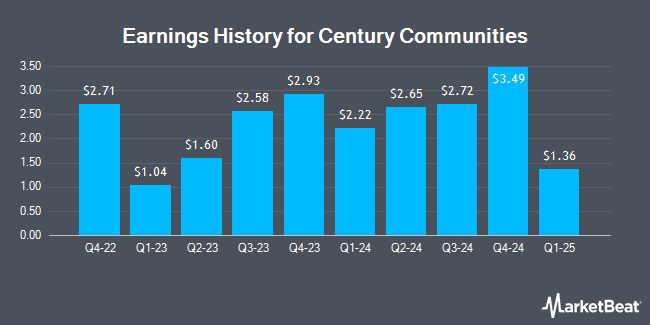 Receive News & Ratings for Century Communities Daily - Enter your email address below to receive a concise daily summary of the latest news and analysts' ratings for Century Communities and related companies with MarketBeat.com's FREE daily email newsletter.