FY2018 EPS Estimates for Allegiant Gold (AUA) Raised by Analyst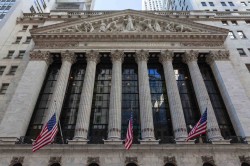 Allegiant Gold (CVE:AUA) – Analysts at Beacon Securities upped their FY2018 earnings per share (EPS) estimates for Allegiant Gold in a research report issued on Tuesday, September 4th. Beacon Securities analyst M. Curran now anticipates that the company will post earnings per share of ($0.03) for the year, up from their prior estimate of ($0.04).
Allegiant Gold (CVE:AUA) last issued its quarterly earnings data on Monday, August 20th. The company reported C($0.01) earnings per share (EPS) for the quarter, meeting the Thomson Reuters' consensus estimate of C($0.01).
Featured Article: Market Capitalization and Individual Investors
Receive News & Ratings for Allegiant Gold Daily - Enter your email address below to receive a concise daily summary of the latest news and analysts' ratings for Allegiant Gold and related companies with MarketBeat.com's FREE daily email newsletter.