George Weston Limited (WN) Announces Quarterly Dividend of $0.49
George Weston Limited (TSE:WN) announced a quarterly dividend on Tuesday, July 31st, Zacks reports. Stockholders of record on Saturday, September 15th will be given a dividend of 0.49 per share on Monday, October 1st. This represents a $1.96 dividend on an annualized basis and a dividend yield of 1.98%. The ex-dividend date is Thursday, September 13th.
Shares of WN stock traded down C$0.12 during mid-day trading on Friday, reaching C$99.21. 202,000 shares of the company were exchanged, compared to its average volume of 132,681. George Weston has a fifty-two week low of C$98.02 and a fifty-two week high of C$113.70.
George Weston (TSE:WN) last released its quarterly earnings results on Tuesday, July 31st. The company reported C$1.63 earnings per share for the quarter. George Weston had a net margin of 6.17% and a return on equity of 19.44%. The business had revenue of C$11.25 billion during the quarter.
WN has been the topic of several research analyst reports. Barclays raised their price objective on George Weston from C$109.00 to C$116.00 in a research note on Monday, July 30th. CIBC raised their price objective on George Weston from C$115.00 to C$119.00 in a research note on Wednesday, August 1st.
In other news, Director Robert Sawyer acquired 2,000 shares of George Weston stock in a transaction that occurred on Thursday, September 6th. The shares were purchased at an average cost of C$99.91 per share, for a total transaction of C$199,820.00.
About George Weston
George Weston Limited engages in the food processing and distribution business in Canada and internationally. The company's Weston Foods segment produces fresh, frozen, and specialty bakery products, such as breads, rolls, bagels, flatbreads, rye bread, tortillas, doughnuts, cakes, pies, cookies, crackers, and other baked goods through national and regional supermarkets, wholesale and club stores, dollar stores, convenience stores, food service distributors, and outlets.
Featured Story: Do closed-end mutual funds pay dividends?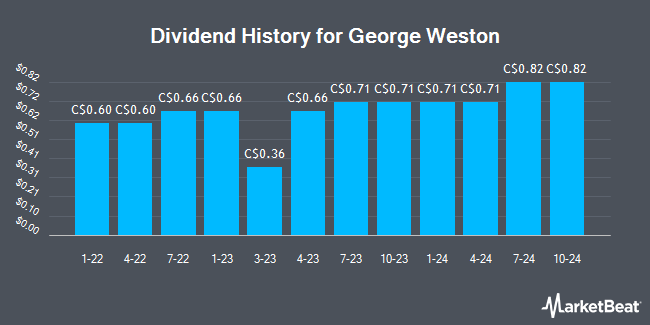 Receive News & Ratings for George Weston Daily - Enter your email address below to receive a concise daily summary of the latest news and analysts' ratings for George Weston and related companies with MarketBeat.com's FREE daily email newsletter.