Go-Ahead Group (GOG) Rating Reiterated by Canaccord Genuity
Go-Ahead Group (LON:GOG)'s stock had its "buy" rating reaffirmed by equities researchers at Canaccord Genuity in a report issued on Friday. They currently have a GBX 2,080 ($26.83) price target on the stock. Canaccord Genuity's target price suggests a potential upside of 18.72% from the company's previous close.
A number of other research analysts have also recently weighed in on the stock. JPMorgan Chase & Co. cut their price objective on shares of Go-Ahead Group from GBX 1,421 ($18.33) to GBX 1,420 ($18.32) and set an "underweight" rating on the stock in a research report on Friday. Liberum Capital reiterated a "hold" rating and set a GBX 1,890 ($24.38) price objective on shares of Go-Ahead Group in a research report on Thursday. One analyst has rated the stock with a sell rating, two have issued a hold rating and seven have given a buy rating to the stock. The company currently has an average rating of "Buy" and a consensus price target of GBX 1,952.22 ($25.18).
GOG stock opened at GBX 1,752 ($22.60) on Friday. Go-Ahead Group has a twelve month low of GBX 1,310 ($16.90) and a twelve month high of GBX 1,952 ($25.18).
In related news, insider Leanne Wood purchased 294 shares of the business's stock in a transaction dated Tuesday, June 12th. The shares were purchased at an average cost of GBX 1,672 ($21.57) per share, for a total transaction of £4,915.68 ($6,341.18). Over the last 90 days, insiders bought 314 shares of company stock worth $522,858.
About Go-Ahead Group
The Go-Ahead Group plc provides bus and rail passenger transportation services in the United Kingdom and Singapore. It operates through three segments: Regional Bus, London Bus, and Rail. The company also offers rail replacement and other contracted services. It serves the department for transport, and transport for London.
Featured Article: How do investors use RSI to grade stocks?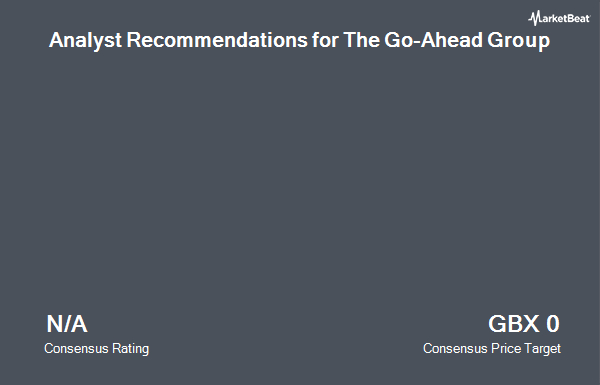 Receive News & Ratings for Go-Ahead Group Daily - Enter your email address below to receive a concise daily summary of the latest news and analysts' ratings for Go-Ahead Group and related companies with MarketBeat.com's FREE daily email newsletter.