Guess?, Inc. (GES) to Issue Quarterly Dividend of $0.23 on September 28th
Guess?, Inc. (NYSE:GES) announced a quarterly dividend on Wednesday, August 29th, RTT News reports. Shareholders of record on Wednesday, September 12th will be paid a dividend of 0.225 per share on Friday, September 28th. This represents a $0.90 annualized dividend and a yield of 4.06%. The ex-dividend date is Tuesday, September 11th.
Guess? has decreased its dividend payment by an average of 8.3% annually over the last three years. Guess? has a payout ratio of 86.5% indicating that its dividend is currently covered by earnings, but may not be in the future if the company's earnings decline. Analysts expect Guess? to earn $1.38 per share next year, which means the company should continue to be able to cover its $0.90 annual dividend with an expected future payout ratio of 65.2%.
Shares of GES stock opened at $22.18 on Monday. The stock has a market capitalization of $1.80 billion, a price-to-earnings ratio of 31.69, a P/E/G ratio of 1.22 and a beta of 0.13. The company has a debt-to-equity ratio of 0.04, a quick ratio of 1.25 and a current ratio of 2.24. Guess? has a 52 week low of $14.17 and a 52 week high of $26.95.
Guess? (NYSE:GES) last announced its quarterly earnings data on Wednesday, August 29th. The company reported $0.36 EPS for the quarter, topping the consensus estimate of $0.32 by $0.04. The business had revenue of $645.87 million for the quarter, compared to analyst estimates of $650.61 million. Guess? had a net margin of 0.10% and a return on equity of 8.12%. The company's revenue for the quarter was up 13.7% on a year-over-year basis. During the same quarter in the previous year, the firm posted $0.19 earnings per share. research analysts predict that Guess? will post 1.04 earnings per share for the current year.
In other Guess? news, Director Gianluca Bolla bought 2,832 shares of Guess? stock in a transaction dated Thursday, August 30th. The stock was purchased at an average price of $26.00 per share, for a total transaction of $73,632.00. Following the completion of the purchase, the director now directly owns 63,936 shares of the company's stock, valued at $1,662,336. The acquisition was disclosed in a legal filing with the SEC, which is available at this hyperlink. 31.30% of the stock is owned by company insiders.
GES has been the topic of several research reports. ValuEngine lowered shares of Guess? from a "strong-buy" rating to a "buy" rating in a research report on Friday, June 1st. Telsey Advisory Group lifted their price objective on shares of Guess? from $25.00 to $26.00 and gave the stock a "market perform" rating in a research report on Thursday, May 31st. Zacks Investment Research raised shares of Guess? from a "hold" rating to a "buy" rating and set a $25.00 price objective on the stock in a research report on Wednesday, August 1st. Finally, TheStreet raised shares of Guess? from a "c+" rating to a "b" rating in a research report on Thursday, August 30th. Three investment analysts have rated the stock with a hold rating, two have given a buy rating and one has issued a strong buy rating to the company. The stock presently has an average rating of "Buy" and a consensus target price of $22.80.
Guess? Company Profile
Guess?, Inc designs, markets, distributes, and licenses lifestyle collections of apparel and accessories for men, women, and children. It operates through five segments: Americas Retail, Americas Wholesale, Europe, Asia, and Licensing. The company's clothing collection includes jeans, pants, skirts, dresses, shorts, blouses, shirts, jackets, knitwear, and intimate apparel.
Featured Story: Risk Tolerance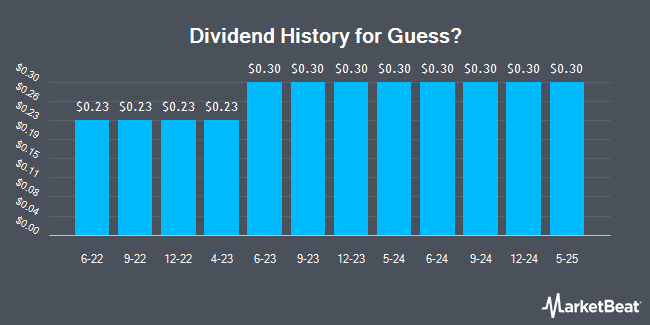 Receive News & Ratings for Guess? Daily - Enter your email address below to receive a concise daily summary of the latest news and analysts' ratings for Guess? and related companies with MarketBeat.com's FREE daily email newsletter.