AstroNova Inc (ALOT) Director Harold Schofield Sells 4,000 Shares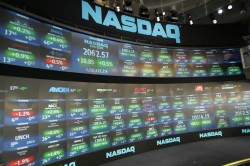 AstroNova Inc (NASDAQ:ALOT) Director Harold Schofield sold 4,000 shares of AstroNova stock in a transaction dated Wednesday, September 12th. The shares were sold at an average price of $22.13, for a total transaction of $88,520.00. Following the completion of the transaction, the director now directly owns 17,149 shares of the company's stock, valued at $379,507.37. The transaction was disclosed in a legal filing with the SEC, which is accessible through the SEC website.
Shares of NASDAQ ALOT traded down $0.15 during midday trading on Thursday, hitting $21.95. The company's stock had a trading volume of 6 shares, compared to its average volume of 28,606. AstroNova Inc has a 1-year low of $11.00 and a 1-year high of $23.95. The company has a debt-to-equity ratio of 0.23, a quick ratio of 1.39 and a current ratio of 2.63. The firm has a market capitalization of $160.98 million, a PE ratio of 34.92, a price-to-earnings-growth ratio of 4.12 and a beta of -0.02.
AstroNova (NASDAQ:ALOT) last posted its quarterly earnings results on Wednesday, August 22nd. The business services provider reported $0.17 EPS for the quarter, beating the Thomson Reuters' consensus estimate of $0.13 by $0.04. AstroNova had a net margin of 3.20% and a return on equity of 8.08%. The business had revenue of $33.81 million during the quarter. equities analysts forecast that AstroNova Inc will post 0.47 earnings per share for the current year.
The firm also recently declared a quarterly dividend, which will be paid on Friday, September 21st. Stockholders of record on Friday, September 14th will be issued a $0.07 dividend. This represents a $0.28 annualized dividend and a dividend yield of 1.28%. The ex-dividend date is Thursday, September 13th. AstroNova's dividend payout ratio (DPR) is presently 44.44%.
Separately, Dougherty & Co assumed coverage on shares of AstroNova in a report on Wednesday, June 13th. They issued a "buy" rating for the company.
Institutional investors have recently bought and sold shares of the business. Girard Partners LTD. acquired a new position in AstroNova during the 2nd quarter valued at about $211,000. Mesirow Financial Investment Management Inc. acquired a new position in AstroNova during the 2nd quarter valued at about $356,000. BlackRock Inc. boosted its stake in AstroNova by 37.0% during the 2nd quarter. BlackRock Inc. now owns 22,215 shares of the business services provider's stock valued at $419,000 after purchasing an additional 6,002 shares during the period. Russell Investments Group Ltd. acquired a new position in AstroNova during the 2nd quarter valued at about $435,000. Finally, Boston Partners acquired a new position in AstroNova during the 2nd quarter valued at about $541,000. 58.16% of the stock is owned by hedge funds and other institutional investors.
About AstroNova
AstroNova, Inc designs, develops, manufactures, and distributes specialty printers, and data acquisition and analysis systems in the United States, Canada, Asia, Europe, Central and South America, and internationally. The company operates through two segments, Product Identification and Test & Measurement (T&M).
Read More: Google Finance
Receive News & Ratings for AstroNova Daily - Enter your email address below to receive a concise daily summary of the latest news and analysts' ratings for AstroNova and related companies with MarketBeat.com's FREE daily email newsletter.