Kirk Stovesand Sells 1,430 Shares of Community West Bancshares (CWBC) Stock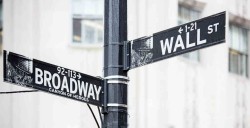 Community West Bancshares (NASDAQ:CWBC) Director Kirk Stovesand sold 1,430 shares of the company's stock in a transaction that occurred on Tuesday, September 11th. The stock was sold at an average price of $12.00, for a total value of $17,160.00. Following the transaction, the director now directly owns 53,780 shares of the company's stock, valued at $645,360. The sale was disclosed in a filing with the SEC, which is available through the SEC website.
Kirk Stovesand also recently made the following trade(s):
On Tuesday, September 4th, Kirk Stovesand bought 203 shares of Community West Bancshares stock. The shares were acquired at an average cost of $12.30 per share, with a total value of $2,496.90.
Shares of CWBC stock opened at $12.45 on Thursday. The company has a debt-to-equity ratio of 1.11, a current ratio of 1.15 and a quick ratio of 1.07. The company has a market cap of $99.04 million, a PE ratio of 15.00 and a beta of 0.31. Community West Bancshares has a 1-year low of $10.25 and a 1-year high of $12.97.
Community West Bancshares (NASDAQ:CWBC) last announced its earnings results on Friday, July 27th. The financial services provider reported $0.21 earnings per share for the quarter. The business had revenue of $9.00 million during the quarter. Community West Bancshares had a return on equity of 9.80% and a net margin of 13.23%.
The company also recently disclosed a quarterly dividend, which was paid on Friday, August 31st. Investors of record on Tuesday, August 14th were paid a $0.05 dividend. This represents a $0.20 annualized dividend and a yield of 1.61%. The ex-dividend date of this dividend was Monday, August 13th.
An institutional investor recently bought a new position in Community West Bancshares stock. Western Standard LLC acquired a new stake in Community West Bancshares (NASDAQ:CWBC) in the 2nd quarter, according to its most recent Form 13F filing with the SEC. The institutional investor acquired 13,712 shares of the financial services provider's stock, valued at approximately $162,000. Western Standard LLC owned about 0.17% of Community West Bancshares as of its most recent filing with the SEC. 21.34% of the stock is owned by institutional investors and hedge funds.
Community West Bancshares Company Profile
Community West Bancshares operates as the bank holding company for Community West Bank, N.A. that provides various financial products and services in California. The company offers deposit products, such as checking accounts, savings accounts, money market accounts, and fixed rate and fixed maturity certificates of deposit, as well as cash management products.
See Also: Hedge Funds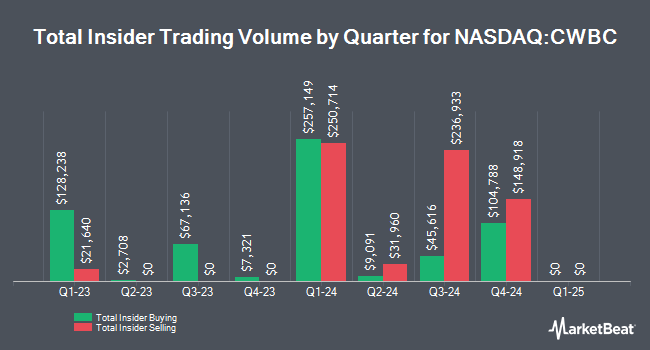 Receive News & Ratings for Community West Bancshares Daily - Enter your email address below to receive a concise daily summary of the latest news and analysts' ratings for Community West Bancshares and related companies with MarketBeat.com's FREE daily email newsletter.