Ameri (AMRH) Rating Lowered to Hold at Zacks Investment Research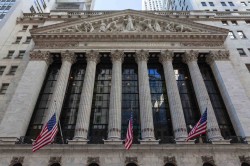 Ameri (NASDAQ:AMRH) was downgraded by Zacks Investment Research from a "buy" rating to a "hold" rating in a research note issued on Monday.
According to Zacks, "Ameri Holdings, Inc. provides technology management solutions services. It services include SAP cloud, digital and enterprise services. Digital services include hybris e-commerce, analytics, big data, AI, IOT and software robotic process automation. Enterprise services offers designs, implements and manages Business Intelligence and analytics solutions. It also provides solutions for metadata repository, master data management and data quality. Ameri Holdings, Inc. is headquartered in Princeton, NJ. "
NASDAQ AMRH traded up $0.05 during trading hours on Monday, reaching $1.50. 800 shares of the company's stock traded hands, compared to its average volume of 58,641. Ameri has a 52-week low of $0.70 and a 52-week high of $13.50. The stock has a market cap of $33.17 million, a P/E ratio of -2.00 and a beta of 0.08. The company has a debt-to-equity ratio of 0.12, a current ratio of 0.38 and a quick ratio of 0.38.
Ameri (NASDAQ:AMRH) last issued its quarterly earnings results on Tuesday, August 14th. The company reported ($0.06) earnings per share (EPS) for the quarter, beating analysts' consensus estimates of ($0.08) by $0.02. Ameri had a negative net margin of 17.15% and a negative return on equity of 45.71%. The company had revenue of $11.08 million during the quarter, compared to analysts' expectations of $12.88 million. research analysts expect that Ameri will post -0.26 earnings per share for the current fiscal year.
In related news, major shareholder Giri Devanur sold 429,357 shares of Ameri stock in a transaction dated Tuesday, July 17th. The shares were sold at an average price of $2.07, for a total transaction of $888,768.99. The sale was disclosed in a legal filing with the Securities & Exchange Commission, which is available through the SEC website. Company insiders own 28.30% of the company's stock.
About Ameri
AMERI Holdings, Inc, through its subsidiaries, provides SAP cloud and digital enterprise services worldwide. The company offers cloud services, including public, private, and hybrid SAP cloud services, as well as SAP HANA cloud migration and cloud automation solutions. It also provides digital services, such as Simple Advance Planning and Optimization mobile solution, a mobile application that offers sales professionals with real-time collaboration capabilities and customer data on their mobile devices; SAP IBP mobile app, which enables the real-time management and analysis of sales and operations planning related data from mobile devices; and robotic process automation that leverages the capability of artificially intelligent software agents for business process automation, as well as for reporting and analysis, and deliver insights into business functions by translating large data into structured reports.
Read More: What does the Dow Jones Industrial Average (DJIA) measure?

Get a free copy of the Zacks research report on Ameri (AMRH)
For more information about research offerings from Zacks Investment Research, visit Zacks.com
Receive News & Ratings for Ameri Daily - Enter your email address below to receive a concise daily summary of the latest news and analysts' ratings for Ameri and related companies with MarketBeat.com's FREE daily email newsletter.