Steel Dynamics (STLD) Releases Q3 Earnings Guidance
Steel Dynamics (NASDAQ:STLD) updated its third quarter earnings guidance on Tuesday. The company provided earnings per share (EPS) guidance of $1.64-1.68 for the period, compared to the Thomson Reuters consensus estimate of $1.70.
Several brokerages have commented on STLD. ValuEngine downgraded Steel Dynamics from a buy rating to a hold rating in a report on Saturday, June 16th. Zacks Investment Research raised Steel Dynamics from a hold rating to a buy rating and set a $52.00 target price on the stock in a report on Wednesday, September 12th. BidaskClub raised Steel Dynamics from a hold rating to a buy rating in a report on Tuesday, July 3rd. Finally, Jefferies Financial Group reaffirmed a buy rating and set a $58.00 target price on shares of Steel Dynamics in a report on Wednesday, July 25th. Three equities research analysts have rated the stock with a hold rating and twelve have assigned a buy rating to the company's stock. The company presently has a consensus rating of Buy and an average price target of $54.08.
STLD stock opened at $46.91 on Wednesday. Steel Dynamics has a 1-year low of $32.36 and a 1-year high of $52.10. The company has a debt-to-equity ratio of 0.66, a current ratio of 3.61 and a quick ratio of 1.92. The stock has a market capitalization of $10.99 billion, a PE ratio of 17.70, a price-to-earnings-growth ratio of 0.70 and a beta of 1.32.
Steel Dynamics (NASDAQ:STLD) last posted its quarterly earnings data on Monday, July 23rd. The basic materials company reported $1.53 earnings per share for the quarter, topping the Thomson Reuters' consensus estimate of $1.49 by $0.04. Steel Dynamics had a return on equity of 26.90% and a net margin of 10.01%. The firm had revenue of $3.09 billion during the quarter, compared to analyst estimates of $2.91 billion. During the same period last year, the company posted $0.63 EPS. The business's quarterly revenue was up 29.3% on a year-over-year basis. analysts expect that Steel Dynamics will post 5.57 earnings per share for the current year.
The firm also recently disclosed a quarterly dividend, which will be paid on Friday, October 12th. Stockholders of record on Sunday, September 30th will be given a $0.1875 dividend. This represents a $0.75 annualized dividend and a dividend yield of 1.60%. The ex-dividend date of this dividend is Thursday, September 27th. Steel Dynamics's dividend payout ratio (DPR) is presently 28.30%.
Steel Dynamics declared that its board has authorized a stock buyback program on Tuesday, September 4th that allows the company to repurchase $750.00 million in shares. This repurchase authorization allows the basic materials company to purchase up to 6.8% of its shares through open market purchases. Shares repurchase programs are often an indication that the company's management believes its stock is undervalued.
Steel Dynamics Company Profile
Steel Dynamics, Inc, together with its subsidiaries, engages in the steel products manufacturing and metals recycling businesses in the United States and internationally. The company operates through three segments: Steel Operations, Metals Recycling Operations, and Steel Fabrication Operations. The Steel Operations segment provides hot roll, cold roll, and coated steel products; structural steel beams, pilings, and standard and premium grade rail products; engineered special-bar-quality products; merchant bar products, including angles, merchant rounds, flats, channels, and reinforcing bars; beams, channels, and specialty steel sections; and threaded rod products, and cold drawn and heat treated bars.
Featured Story: Book Value Per Share – BVPS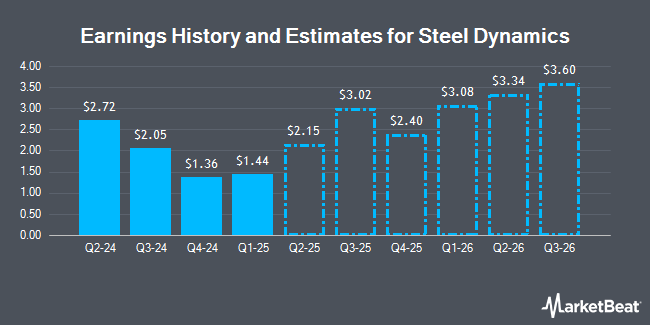 Receive News & Ratings for Steel Dynamics Daily - Enter your email address below to receive a concise daily summary of the latest news and analysts' ratings for Steel Dynamics and related companies with MarketBeat.com's FREE daily email newsletter.