NovaGold Resources (NG) to Release Quarterly Earnings on Tuesday
NovaGold Resources (TSE:NG) (AMEX:NG) is scheduled to issue its quarterly earnings data after the market closes on Tuesday, October 2nd. Analysts expect the company to announce earnings of C($0.04) per share for the quarter.
NovaGold Resources (TSE:NG) (AMEX:NG) last released its quarterly earnings data on Wednesday, June 27th. The mining company reported C($0.04) EPS for the quarter, missing analysts' consensus estimates of C($0.03) by C($0.01).
NG stock opened at C$4.94 on Tuesday. NovaGold Resources has a 52 week low of C$4.33 and a 52 week high of C$6.47.
In other news, insider David Ottewell sold 60,309 shares of the company's stock in a transaction on Wednesday, September 12th. The stock was sold at an average price of C$4.85, for a total transaction of C$292,498.65.
NovaGold Resources Company Profile
Novagold Resources Inc is a mineral exploration company. The Company is engaged in the exploration and development of mineral properties. The Company's segments include the Donlin Gold project in Alaska, the United States and the Galore Creek project in British Columbia, Canada. The Company operates in the gold mining industry, primarily focused on advancing permitting of the Donlin Gold project in Alaska.
Read More: How to Track your Portfolio in Google Finance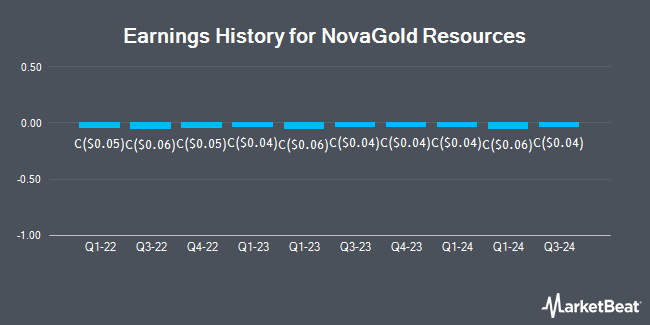 Receive News & Ratings for NovaGold Resources Daily - Enter your email address below to receive a concise daily summary of the latest news and analysts' ratings for NovaGold Resources and related companies with MarketBeat.com's FREE daily email newsletter.