Brokerages Set Go-Ahead Group plc (GOG) Price Target at $1,937.50
Go-Ahead Group plc (LON:GOG) has received a consensus rating of "Buy" from the nine brokerages that are covering the stock, Marketbeat Ratings reports. One equities research analyst has rated the stock with a sell recommendation, two have assigned a hold recommendation and six have assigned a buy recommendation to the company. The average twelve-month price target among analysts that have covered the stock in the last year is GBX 1,937.50 ($25.32).
Several brokerages have commented on GOG. Canaccord Genuity reiterated a "buy" rating and issued a GBX 2,080 ($27.18) price target on shares of Go-Ahead Group in a research note on Friday, September 7th. JPMorgan Chase & Co. lowered their target price on shares of Go-Ahead Group from GBX 1,421 ($18.57) to GBX 1,420 ($18.55) and set an "underweight" rating on the stock in a research report on Friday, September 7th. Finally, Liberum Capital restated a "hold" rating and set a GBX 1,890 ($24.70) target price on shares of Go-Ahead Group in a research report on Thursday, September 6th.
Shares of Go-Ahead Group stock opened at GBX 1,566 ($20.46) on Wednesday. Go-Ahead Group has a 52 week low of GBX 1,310 ($17.12) and a 52 week high of GBX 1,952 ($25.51).
The firm also recently announced a dividend, which will be paid on Friday, November 23rd. Stockholders of record on Thursday, November 8th will be given a dividend of GBX 71.91 ($0.94) per share. The ex-dividend date of this dividend is Thursday, November 8th. This is a positive change from Go-Ahead Group's previous dividend of $30.17. This represents a dividend yield of 3.93%.
Go-Ahead Group Company Profile
The Go-Ahead Group plc provides bus and rail passenger transportation services in the United Kingdom and Singapore. It operates through three segments: Regional Bus, London Bus, and Rail. The company also offers rail replacement and other contracted services. It serves the department for transport, and transport for London.
Further Reading: Moving Average – How it Helps Investors in Stock Selection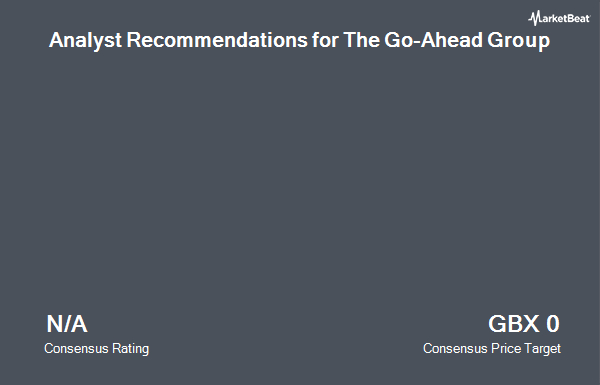 Receive News & Ratings for Go-Ahead Group Daily - Enter your email address below to receive a concise daily summary of the latest news and analysts' ratings for Go-Ahead Group and related companies with MarketBeat.com's FREE daily email newsletter.