Gabriel Rubacha Acquires 8,000 Shares of Lithium Americas Corp (LAC) Stock
Lithium Americas Corp (TSE:LAC) Director Gabriel Rubacha purchased 8,000 shares of the business's stock in a transaction on Tuesday, October 9th. The stock was purchased at an average cost of C$4.20 per share, with a total value of C$33,600.00.
Shares of LAC opened at C$5.28 on Friday. Lithium Americas Corp has a 1 year low of C$4.58 and a 1 year high of C$14.06.
Lithium Americas (TSE:LAC) last issued its earnings results on Tuesday, August 14th. The company reported C($0.10) earnings per share (EPS) for the quarter, missing the Zacks' consensus estimate of C($0.08) by C($0.02). Lithium Americas had a negative return on equity of 52.25% and a negative net margin of 1,204.82%. The company had revenue of C$1.10 million during the quarter, compared to analyst estimates of C$1.39 million.
LAC has been the subject of a number of recent research reports. Eight Capital increased their target price on Lithium Americas from C$13.00 to C$13.70 in a report on Tuesday, August 14th. Cormark increased their target price on Lithium Americas from C$13.25 to C$13.75 in a report on Friday, June 22nd.
About Lithium Americas
Lithium Americas Corp. operates as a resource company in the United States. The company explores for lithium deposits. It primarily holds interests in the Cauchari-Olaroz Project located in Jujuy province of Argentina; and the Lithium Nevada Project covering approximately 15,233 hectares of area located in northwestern Nevada.
Further Reading: What is the balance sheet?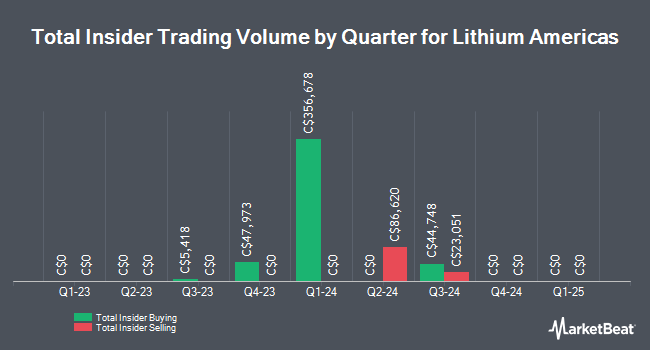 Receive News & Ratings for Lithium Americas Daily - Enter your email address below to receive a concise daily summary of the latest news and analysts' ratings for Lithium Americas and related companies with MarketBeat.com's FREE daily email newsletter.