Insider Buying: MS International plc (MSI) Insider Buys 13,166 Shares of Stock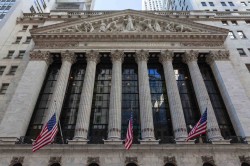 MS International plc (LON:MSI) insider Michael O'Connell purchased 13,166 shares of the stock in a transaction that occurred on Tuesday, October 16th. The shares were purchased at an average price of GBX 190 ($2.48) per share, for a total transaction of £25,015.40 ($32,687.05).
Shares of MSI opened at GBX 186.48 ($2.44) on Wednesday. MS International plc has a 12-month low of GBX 153 ($2.00) and a 12-month high of GBX 220 ($2.87).
About MS International
MS INTERNATIONAL plc designs, manufactures, sells, and services engineering products in Europe, North America, and internationally. It operates through Defence, Forgings, Petrol Station Superstructures, and Petrol Station Branding divisions. The company offers defense equipment and open die forgings.
Read More: Do Tariffs Work?

Receive News & Ratings for MS International Daily - Enter your email address below to receive a concise daily summary of the latest news and analysts' ratings for MS International and related companies with MarketBeat.com's FREE daily email newsletter.