WD-40 (WDFC) to Issue Quarterly Dividend of $0.54 on October 31st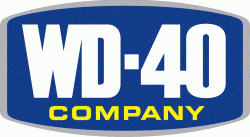 WD-40 (NASDAQ:WDFC) announced a quarterly dividend on Tuesday, October 9th, RTT News reports. Shareholders of record on Friday, October 19th will be paid a dividend of 0.54 per share by the specialty chemicals company on Wednesday, October 31st. This represents a $2.16 annualized dividend and a yield of 1.37%. The ex-dividend date is Thursday, October 18th.
WD-40 has increased its dividend payment by an average of 13.0% per year over the last three years and has increased its dividend every year for the last 6 years. WD-40 has a payout ratio of 52.7% meaning its dividend is sufficiently covered by earnings. Research analysts expect WD-40 to earn $4.65 per share next year, which means the company should continue to be able to cover its $2.16 annual dividend with an expected future payout ratio of 46.5%.
WDFC stock opened at $157.77 on Wednesday. The company has a market cap of $2.39 billion, a price-to-earnings ratio of 41.63 and a beta of 0.59. WD-40 has a one year low of $108.20 and a one year high of $184.25. The company has a current ratio of 1.75, a quick ratio of 1.47 and a debt-to-equity ratio of 0.56.
Several research firms have commented on WDFC. BidaskClub raised shares of WD-40 from a "buy" rating to a "strong-buy" rating in a research note on Saturday, September 8th.
Zacks Investment Research
downgraded shares of WD-40 from a "buy" rating to a "hold" rating in a research note on Wednesday, September 12th. Finally, B. Riley lifted their price target on shares of WD-40 from $135.00 to $152.00 and gave the stock a "neutral" rating in a research note on Wednesday, July 11th. One research analyst has rated the stock with a sell rating, four have issued a hold rating and one has given a buy rating to the stock. The stock currently has an average rating of "Hold" and a consensus price target of $142.75.
In other WD-40 news, insider William B. Noble sold 2,000 shares of WD-40 stock in a transaction that occurred on Wednesday, August 15th. The shares were sold at an average price of $166.13, for a total transaction of $332,260.00. The transaction was disclosed in a filing with the SEC, which can be accessed through the SEC website. Company insiders own 3.62% of the company's stock.
WD-40 Company Profile
WD-40 Company engages in the development and sale of maintenance products, and homecare and cleaning products. It offers multi-purpose maintenance products, including aerosol sprays, non-aerosol trigger sprays, and in liquid-bulk form products under the WD-40 Multi-Use brand name for various consumer uses; specialty maintenance products, such as penetrants, degreasers, corrosion inhibitors, greases, lubricants, and rust removers under the WD-40 Specialist brand name; and bicycle maintenance products under the WD-40 Bike brand name comprising wet and dry chain lubricants, chain cleaners and degreasers, and foaming wash products that are designed for avid and recreational cyclists, bike enthusiasts, and mechanics.
Featured Article: Market Capitalization, Large-Caps, Mid-Caps, Small-Caps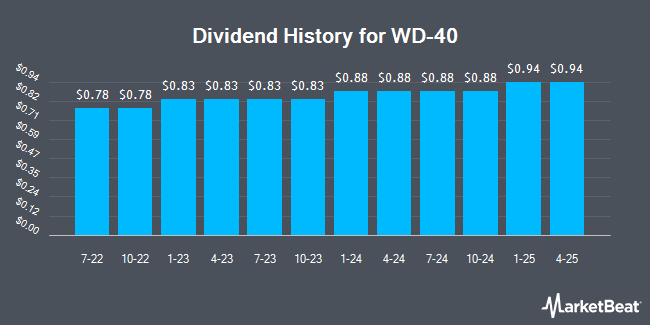 Receive News & Ratings for WD-40 Daily - Enter your email address below to receive a concise daily summary of the latest news and analysts' ratings for WD-40 and related companies with MarketBeat.com's FREE daily email newsletter.