Byline Bancorp (BY) Set to Announce Quarterly Earnings on Thursday
Byline Bancorp (NYSE:BY) will release its earnings data after the market closes on Thursday, October 25th. Analysts expect Byline Bancorp to post earnings of $0.34 per share for the quarter.
Byline Bancorp (NYSE:BY) last announced its earnings results on Friday, July 27th. The company reported $0.32 earnings per share (EPS) for the quarter, topping analysts' consensus estimates of $0.28 by $0.04. The business had revenue of $53.56 million during the quarter, compared to analysts' expectations of $49.80 million. Byline Bancorp had a net margin of 9.06% and a return on equity of 6.90%. On average, analysts expect Byline Bancorp to post $1 EPS for the current fiscal year and $2 EPS for the next fiscal year.
Shares of Byline Bancorp stock opened at $21.30 on Thursday. The stock has a market cap of $822.17 million, a P/E ratio of 40.96, a PEG ratio of 1.85 and a beta of -0.19. The company has a quick ratio of 0.93, a current ratio of 0.93 and a debt-to-equity ratio of 0.69. Byline Bancorp has a 12-month low of $19.02 and a 12-month high of $24.80.
A hedge fund recently raised its stake in Byline Bancorp stock. Bank of New York Mellon Corp boosted its stake in shares of Byline Bancorp Inc (NYSE:BY) by 20.4% during the second quarter, according to the company in its most recent filing with the Securities & Exchange Commission. The fund owned 57,150 shares of the company's stock after acquiring an additional 9,679 shares during the quarter. Bank of New York Mellon Corp owned approximately 0.16% of Byline Bancorp worth $1,277,000 as of its most recent SEC filing. Institutional investors own 26.29% of the company's stock.
A number of brokerages recently issued reports on BY. ValuEngine cut shares of Byline Bancorp from a "buy" rating to a "hold" rating in a research report on Tuesday, October 2nd. Zacks Investment Research cut shares of Byline Bancorp from a "hold" rating to a "sell" rating in a research report on Tuesday, July 3rd.
About Byline Bancorp
Byline Bancorp, Inc operates as the bank holding company for Byline Bank that provides a range of banking products and services to small and medium sized businesses, commercial real estate and financial sponsors, and consumers in the United States. It offers non-interest bearing accounts, money market demand accounts, savings accounts, interest bearing checking accounts, and time deposits, as well as certificates of deposit.
See Also: What is the Dividend Aristocrat Index?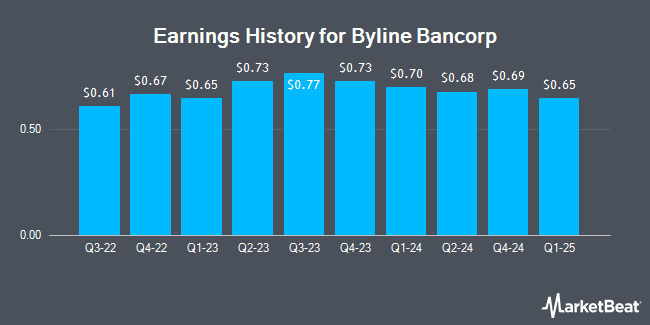 Receive News & Ratings for Byline Bancorp Daily - Enter your email address below to receive a concise daily summary of the latest news and analysts' ratings for Byline Bancorp and related companies with MarketBeat.com's FREE daily email newsletter.