Eldorado Gold Corp (ELD) Receives Consensus Rating of "Hold" from Analysts
Eldorado Gold Corp (TSE:ELD) (NYSE:EGO) has been assigned a consensus rating of "Hold" from the eight ratings firms that are presently covering the company, Marketbeat Ratings reports. Two research analysts have rated the stock with a sell recommendation, three have issued a hold recommendation and one has assigned a buy recommendation to the company. The average 12 month price target among brokers that have covered the stock in the last year is C$1.59.
Several research analysts have weighed in on the stock. National Bank Financial set a C$1.50 price target on shares of Eldorado Gold and gave the company an "outperform" rating in a report on Thursday. Canaccord Genuity lowered their price target on shares of Eldorado Gold from C$1.45 to C$1.30 in a report on Thursday.
Eldorado Gold stock traded down C$0.01 during trading hours on Thursday, hitting C$1.18. The company had a trading volume of 394,189 shares, compared to its average volume of 1,861,471. Eldorado Gold has a one year low of C$1.03 and a one year high of C$2.76.
About Eldorado Gold
Eldorado Gold Corporation, together with its subsidiaries, engages in the exploration, development, and mining of gold properties in Turkey, Greece, Brazil, Serbia, Canada, and Romania. The company holds 100% interests in the Kisladag and Efemcukuru gold mines in Turkey; Lamaque gold project in Canada; Perama Hill gold-silver project and Sapes in Greece; and Vila Nova iron ore mine and Tocantinzinho gold project in Brazil.
Featured Article: Insider Trading – What You Need to Know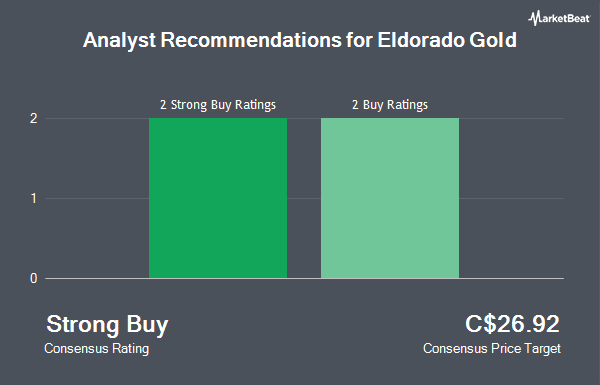 Receive News & Ratings for Eldorado Gold Daily - Enter your email address below to receive a concise daily summary of the latest news and analysts' ratings for Eldorado Gold and related companies with MarketBeat.com's FREE daily email newsletter.