Raymond James Cuts Western Forest Products (WEF) Price Target to C$1.00
Western Forest Products (TSE:WEF) had its price target trimmed by Raymond James from C$1.60 to C$1.00 in a report released on Monday.
Other research analysts have also recently issued reports about the stock. CIBC decreased their price objective on shares of Western Forest Products from C$3.25 to C$3.00 in a research report on Wednesday, August 8th. TD Securities decreased their price objective on shares of Western Forest Products from C$3.50 to C$3.25 and set a buy rating on the stock in a research report on Tuesday, August 7th. One equities research analyst has rated the stock with a hold rating, three have given a buy rating and one has assigned a strong buy rating to the company. The stock presently has an average rating of Buy and an average price target of C$2.60.
WEF stock opened at C$1.83 on Monday. Western Forest Products has a 1-year low of C$1.79 and a 1-year high of C$2.95.
Western Forest Products (TSE:WEF) last posted its quarterly earnings data on Thursday, August 2nd. The company reported C$0.07 earnings per share for the quarter. The company had revenue of C$327.80 million for the quarter. Western Forest Products had a net margin of 6.71% and a return on equity of 13.63%.
About Western Forest Products
Western Forest Products Inc operates as an integrated forest products company. The company is involved in timber harvesting, sawmilling logs into specialty lumber, and value-added lumber remanufacturing. It offers lumber and logs from various tree species, such as western red cedar, hem-fir, Douglas fir, yellow cedar, and Sitka spruce.
Read More: Do closed-end mutual funds pay dividends?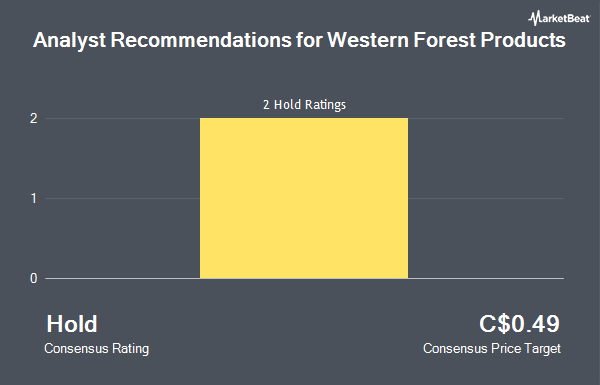 Receive News & Ratings for Western Forest Products Daily - Enter your email address below to receive a concise daily summary of the latest news and analysts' ratings for Western Forest Products and related companies with MarketBeat.com's FREE daily email newsletter.