Royal Dutch Shell plc ADR (RDS.A) Expected to Post Earnings of $1.49 Per Share
Wall Street brokerages predict that Royal Dutch Shell plc ADR (NYSE:RDS.A) will post earnings per share of $1.49 for the current fiscal quarter, according to Zacks. Zero analysts have provided estimates for Royal Dutch Shell's earnings, with the lowest EPS estimate coming in at $1.36 and the highest estimate coming in at $1.62. Royal Dutch Shell reported earnings of $0.98 per share in the same quarter last year, which would indicate a positive year-over-year growth rate of 52%. The business is expected to announce its next quarterly earnings report before the market opens on Thursday, November 1st.
According to Zacks, analysts expect that Royal Dutch Shell will report full year earnings of $5.77 per share for the current fiscal year, with EPS estimates ranging from $5.40 to $6.12. For the next financial year, analysts expect that the business will report earnings of $7.00 per share, with EPS estimates ranging from $6.70 to $7.52. Zacks Investment Research's earnings per share averages are a mean average based on a survey of sell-side analysts that cover Royal Dutch Shell.
Royal Dutch Shell (NYSE:RDS.A) last posted its earnings results on Thursday, July 26th. The energy company reported $1.12 earnings per share (EPS) for the quarter, missing analysts' consensus estimates of $1.41 by ($0.29). Royal Dutch Shell had a net margin of 5.64% and a return on equity of 9.22%. The company had revenue of $99.27 billion during the quarter. During the same quarter in the prior year, the firm posted $0.44 earnings per share.
RDS.A has been the subject of a number of research analyst reports. Citigroup upgraded Royal Dutch Shell from a "sell" rating to a "neutral" rating in a report on Wednesday, October 3rd. Santander upgraded Royal Dutch Shell from an "underperform" rating to a "hold" rating in a report on Friday, August 31st. Berenberg Bank initiated coverage on Royal Dutch Shell in a report on Tuesday, September 11th. They set a "hold" rating for the company. Jefferies Financial Group restated a "buy" rating on shares of Royal Dutch Shell in a report on Friday, July 27th. Finally, Raymond James upgraded Royal Dutch Shell from a "market perform" rating to an "outperform" rating in a report on Thursday, July 19th. Eight analysts have rated the stock with a hold rating and nine have assigned a buy rating to the company. The company presently has a consensus rating of "Buy" and a consensus price target of $81.85.
Shares of RDS.A opened at $65.17 on Monday. The company has a debt-to-equity ratio of 0.35, a current ratio of 1.27 and a quick ratio of 0.93. The firm has a market capitalization of $284.23 billion, a price-to-earnings ratio of 17.09, a price-to-earnings-growth ratio of 0.92 and a beta of 0.99. Royal Dutch Shell has a fifty-two week low of $60.43 and a fifty-two week high of $73.86.
About Royal Dutch Shell
The Royal Dutch Shell plc explores for crude oil and natural gas around the world, both in conventional fields and from sources, such as tight rock, shale and coal formations. The Company's segments include Integrated Gas, Upstream, Downstream and Corporate. The Integrated Gas segment is engaged in the liquefaction and transportation of gas and the conversion of natural gas to liquids to provide fuels and other products, as well as projects with an integrated activity, ranging from producing to commercializing gas.
Featured Article: Do You Need a Fiduciary?

Get a free copy of the Zacks research report on Royal Dutch Shell (RDS.A)
For more information about research offerings from Zacks Investment Research, visit Zacks.com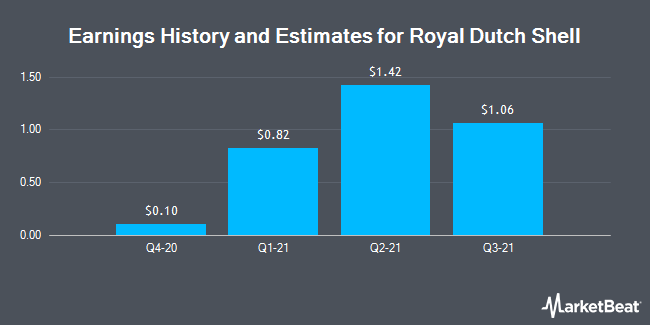 Receive News & Ratings for Royal Dutch Shell Daily - Enter your email address below to receive a concise daily summary of the latest news and analysts' ratings for Royal Dutch Shell and related companies with MarketBeat.com's FREE daily email newsletter.