Serco Group (SRP) Given New GBX 90 Price Target at Royal Bank of Canada
Serco Group (LON:SRP) had its target price hoisted by Royal Bank of Canada from GBX 85 ($1.11) to GBX 90 ($1.18) in a note issued to investors on Thursday. The brokerage currently has an "underperform" rating on the stock. Royal Bank of Canada's price target would indicate a potential downside of 10.80% from the company's current price.
SRP has been the subject of several other research reports. Shore Capital reaffirmed a "hold" rating on shares of Serco Group in a research report on Friday, September 28th. Liberum Capital reaffirmed a "sell" rating on shares of Serco Group in a research report on Friday, June 29th. Peel Hunt reaffirmed a "reduce" rating on shares of Serco Group in a research report on Friday, September 28th. Citigroup raised Serco Group to a "neutral" rating and upped their target price for the stock from GBX 87 ($1.14) to GBX 95 ($1.24) in a research report on Tuesday, October 2nd. Finally, Jefferies Financial Group decreased their target price on Serco Group from GBX 168 ($2.20) to GBX 123 ($1.61) and set a "buy" rating for the company in a research report on Monday, August 6th. Four investment analysts have rated the stock with a sell rating, five have given a hold rating and four have assigned a buy rating to the company's stock. The company presently has a consensus rating of "Hold" and a consensus price target of GBX 107.83 ($1.41).
Shares of LON SRP opened at GBX 100.90 ($1.32) on Thursday. Serco Group has a 1-year low of GBX 82.25 ($1.07) and a 1-year high of GBX 123.60 ($1.62).
About Serco Group
Serco Group plc provides public services in the Asia Pacific, the Middle East, Europe, the United Kingdom, and North America. It provides defense, health, justice and immigration, transport, and citizen services. The company also offers non-clinical support services to hospitals; environmental and leisure services, as well as a range of front, middle, and back-office services to public sector customers; and IT services.
See Also: Market Capitalization and Individual Investors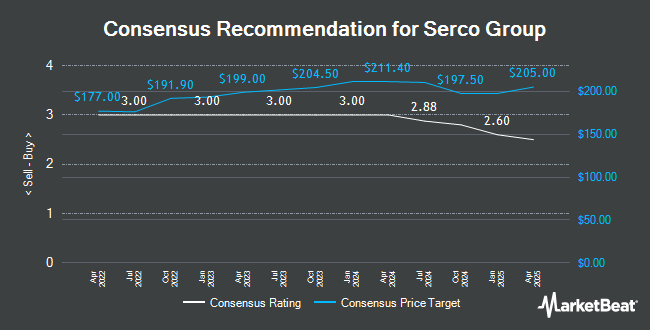 Receive News & Ratings for Serco Group Daily - Enter your email address below to receive a concise daily summary of the latest news and analysts' ratings for Serco Group and related companies with MarketBeat.com's FREE daily email newsletter.