FlexShopper (FPAY) Sees Strong Trading Volume Following Insider Buying Activity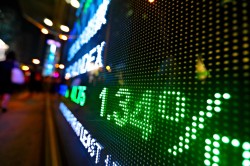 FlexShopper Inc (NASDAQ:FPAY) shares saw an uptick in trading volume on Friday after an insider bought additional shares in the company. 3,299,435 shares were traded during trading, an increase of 2,369% from the previous session's volume of 133,622 shares.The stock last traded at $0.86 and had previously closed at $0.78.
Specifically, major shareholder Howard Dvorkin purchased 50,883 shares of the company's stock in a transaction dated Wednesday, October 17th. The shares were bought at an average price of $0.79 per share, with a total value of $40,197.57. The purchase was disclosed in a document filed with the Securities & Exchange Commission, which is available through the SEC website. Also, insider Ravi Radhakrishnan purchased 90,000 shares of the company's stock in a transaction dated Friday, September 28th. The shares were acquired at an average cost of $1.00 per share, for a total transaction of $90,000.00. The disclosure for this purchase can be found here. In the last ninety days, insiders have bought 290,883 shares of company stock worth $280,198. 15.10% of the stock is currently owned by insiders.
The company has a quick ratio of 1.03, a current ratio of 1.03 and a debt-to-equity ratio of -0.06.
FlexShopper (NASDAQ:FPAY) last posted its quarterly earnings data on Monday, August 6th. The financial services provider reported ($0.48) earnings per share (EPS) for the quarter. The company had revenue of $19.08 million during the quarter.
An institutional investor recently bought a new position in FlexShopper stock. Massey Quick Simon & CO. LLC acquired a new position in shares of FlexShopper Inc (NASDAQ:FPAY) in the second quarter, according to its most recent filing with the Securities & Exchange Commission. The firm acquired 34,864 shares of the financial services provider's stock, valued at approximately $111,000. Massey Quick Simon & CO. LLC owned approximately 0.64% of FlexShopper as of its most recent filing with the Securities & Exchange Commission. Institutional investors and hedge funds own 0.79% of the company's stock.
FlexShopper Company Profile (NASDAQ:FPAY)
FlexShopper, Inc, through its wholly owned subsidiary, FlexShopper, LLC, provides various types of durable goods to consumers on a lease-to-own basis (LTO) to consumers of third party retailers and e-tailers. It offers products through FlexShopper.com, an LTO e-commerce marketplace; e-commerce sites and in-store terminals by utilizing FlexShopper's LTO payment method; and facilitation of LTO transactions with retailers.
Further Reading: Google Finance Portfolio
Receive News & Ratings for FlexShopper Daily - Enter your email address below to receive a concise daily summary of the latest news and analysts' ratings for FlexShopper and related companies with MarketBeat.com's FREE daily email newsletter.