Greencore Group (GNC) Rating Reiterated by Peel Hunt
Greencore Group (LON:GNC)'s stock had its "hold" rating reaffirmed by research analysts at Peel Hunt in a report released on Friday. They currently have a GBX 205 ($2.68) target price on the stock. Peel Hunt's target price indicates a potential upside of 3.96% from the company's previous close.
A number of other research analysts have also weighed in on the company. Shore Capital restated a "hold" rating on shares of Greencore Group in a report on Tuesday, July 31st. Kepler Capital Markets restated a "buy" rating on shares of Greencore Group in a report on Tuesday. Berenberg Bank restated a "buy" rating and issued a GBX 230 ($3.01) target price on shares of Greencore Group in a report on Wednesday, August 1st. Finally, Numis Securities reaffirmed an "add" rating on shares of Greencore Group in a research report on Tuesday, July 31st. Four equities research analysts have rated the stock with a hold rating and four have issued a buy rating to the company. The stock currently has an average rating of "Buy" and an average target price of GBX 211.67 ($2.77).
GNC stock opened at GBX 197.20 ($2.58) on Friday. Greencore Group has a twelve month low of GBX 120 ($1.57) and a twelve month high of GBX 263 ($3.44).
Greencore Group Company Profile
Greencore Group plc produces and sells various food products primarily in the United Kingdom and the United States. It operates through Convenience Foods UK & Ireland, Convenience Foods US, and Ingredients and Property segments. The company provides sandwiches, wraps, rolls, sub-rolls, flatbreads, baguettes, bagels, prepared salads, and sushi products; and prepared meals, such as chilled ready meals, chilled sauces and soups, and quiches.
Featured Article: Average Daily Trade Volume – What It Means In Stock Trading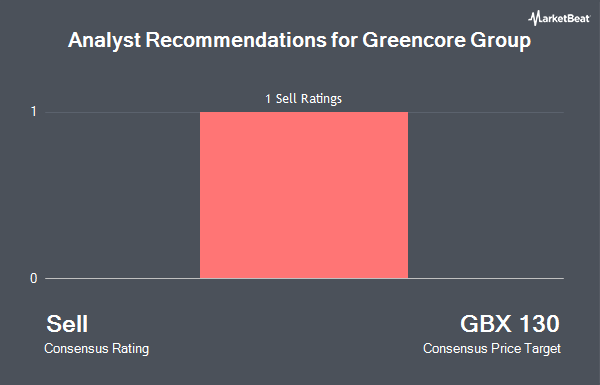 Receive News & Ratings for Greencore Group Daily - Enter your email address below to receive a concise daily summary of the latest news and analysts' ratings for Greencore Group and related companies with MarketBeat.com's FREE daily email newsletter.