SM Energy Co (SM) to Issue $0.05 Semiannual Dividend
SM Energy Co (NYSE:SM) declared a semiannual dividend on Monday, October 1st, Wall Street Journal reports. Investors of record on Friday, October 26th will be paid a dividend of 0.05 per share by the energy company on Wednesday, November 7th. This represents a yield of 0.31%. The ex-dividend date of this dividend is Thursday, October 25th.
SM Energy has a dividend payout ratio of 26.3% indicating that its dividend is sufficiently covered by earnings. Research analysts expect SM Energy to earn $1.89 per share next year, which means the company should continue to be able to cover its $0.10 annual dividend with an expected future payout ratio of 5.3%.
Shares of SM stock opened at $29.01 on Friday. SM Energy has a 1-year low of $16.11 and a 1-year high of $33.76. The company has a quick ratio of 0.91, a current ratio of 0.91 and a debt-to-equity ratio of 0.94.
SM Energy (NYSE:SM) last announced its quarterly earnings data on Thursday, August 2nd. The energy company reported $0.15 earnings per share for the quarter, topping the Zacks' consensus estimate of $0.06 by $0.09. SM Energy had a negative return on equity of 0.43% and a net margin of 11.85%. The firm had revenue of $402.60 million for the quarter, compared to analyst estimates of $371.54 million. During the same quarter in the prior year, the company posted ($0.32) earnings per share. SM Energy's quarterly revenue was up 41.3% on a year-over-year basis. On average, research analysts expect that SM Energy will post 0.42 earnings per share for the current fiscal year.
A number of research analysts recently weighed in on the company. KLR Group reaffirmed a "buy" rating and set a $40.00 price objective on shares of SM Energy in a report on Monday, August 20th. Citigroup upped their price objective on SM Energy to $29.00 and gave the stock a "neutral" rating in a report on Friday, August 17th. Williams Capital set a $44.00 price objective on SM Energy and gave the stock a "buy" rating in a report on Thursday. Scotiabank raised SM Energy from a "sector perform" rating to an "outperform" rating in a report on Thursday, September 27th. Finally, TheStreet raised SM Energy from a "d+" rating to a "c-" rating in a report on Monday, July 9th. Six analysts have rated the stock with a hold rating and fourteen have given a buy rating to the company's stock. The stock currently has a consensus rating of "Buy" and a consensus target price of $31.60.
SM Energy Company Profile
SM Energy Company, an independent energy company, engages in the acquisition, exploration, development, and production of crude oil and condensate, natural gas, and natural gas liquids in onshore North America. It primarily has operations in the Midland Basin and the Eagle Ford shale in Texas. As of December 31, 2017, the company had 468.1 million barrels of oil equivalent of estimated proved reserves; and working interests in 919 net productive oil wells and 489 net productive gas wells.
Recommended Story: Price to Earnings Ratio (PE)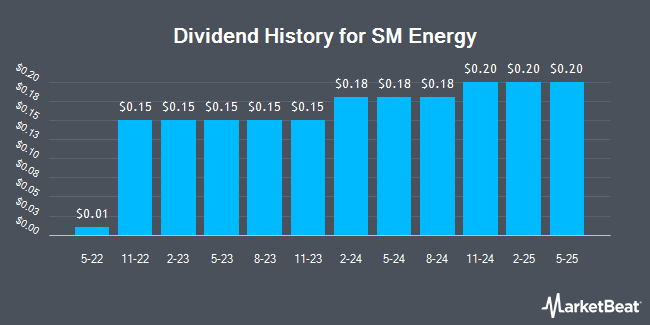 Receive News & Ratings for SM Energy Daily - Enter your email address below to receive a concise daily summary of the latest news and analysts' ratings for SM Energy and related companies with MarketBeat.com's FREE daily email newsletter.