GWG (GWGH) Stock Rating Lowered by ValuEngine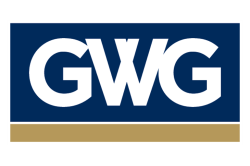 GWG (NASDAQ:GWGH) was downgraded by analysts at ValuEngine from a "sell" rating to a "strong sell" rating in a note issued to investors on Saturday.
GWGH has been the topic of several other reports. Zacks Investment Research upgraded shares of GWG from a "hold" rating to a "buy" rating and set a $7.25 target price on the stock in a report on Monday, October 22nd. Maxim Group reiterated a "buy" rating and set a $14.00 target price on shares of GWG in a report on Thursday, August 16th.
Shares of GWG stock opened at $5.51 on Friday. GWG has a 1 year low of $5.50 and a 1 year high of $13.10. The stock has a market cap of $32.03 million, a price-to-earnings ratio of 1.74, a price-to-earnings-growth ratio of 0.60 and a beta of 0.69.
GWG (NASDAQ:GWGH) last issued its earnings results on Wednesday, August 15th. The financial services provider reported $1.76 earnings per share (EPS) for the quarter, topping the Thomson Reuters' consensus estimate of ($0.85) by $2.61. GWG had a negative net margin of 38.85% and a negative return on equity of 87.97%. The company had revenue of $24.32 million for the quarter, compared to analysts' expectations of $22.33 million. On average, equities analysts anticipate that GWG will post 0.46 earnings per share for the current year.
An institutional investor recently bought a new position in GWG stock. Groesbeck Investment Management Corp NJ purchased a new stake in shares of GWG Holdings Inc (NASDAQ:GWGH) in the 3rd quarter, according to its most recent Form 13F filing with the Securities & Exchange Commission. The institutional investor purchased 35,455 shares of the financial services provider's stock, valued at approximately $275,000. Groesbeck Investment Management Corp NJ owned about 0.61% of GWG as of its most recent filing with the Securities & Exchange Commission. 0.27% of the stock is currently owned by institutional investors.
About GWG
GWG Holdings, Inc, a financial services company, purchases life insurance policies in the secondary market in the United States. It purchases or finances life insurance assets from consumers in the secondary market at a discount to the face value of the policy benefit. The company also purchases policies in the secondary market through financial advisors and appointed agents.
Featured Article: The Role of a Fiduciary and Individual Investors
To view ValuEngine's full report, visit ValuEngine's official website.
Receive News & Ratings for GWG Daily - Enter your email address below to receive a concise daily summary of the latest news and analysts' ratings for GWG and related companies with MarketBeat.com's FREE daily email newsletter.