vTv Therapeutics Inc (VTVT) Major Shareholder Buys $2,499,999.67 in Stock
vTv Therapeutics Inc (NASDAQ:VTVT) major shareholder Ronald O. Perelman purchased 1,879,699 shares of the company's stock in a transaction on Tuesday, November 6th. The shares were purchased at an average cost of $1.33 per share, with a total value of $2,499,999.67. The transaction was disclosed in a document filed with the SEC, which is accessible through this link. Major shareholders that own at least 10% of a company's stock are required to disclose their sales and purchases with the SEC.
VTVT stock traded up $0.01 during mid-day trading on Thursday, hitting $2.65. 7,431 shares of the stock were exchanged, compared to its average volume of 2,473,926. vTv Therapeutics Inc has a 12 month low of $0.65 and a 12 month high of $8.40. The firm has a market cap of $90.48 million, a P/E ratio of -1.59 and a beta of -3.71.
Separately, Zacks Investment Research lowered vTv Therapeutics from a "buy" rating to a "hold" rating in a research note on Thursday, October 4th. Eight investment analysts have rated the stock with a hold rating and one has issued a buy rating to the company's stock. The stock has an average rating of "Hold" and an average price target of $13.29.
An institutional investor recently raised its position in vTv Therapeutics stock. JPMorgan Chase & Co. lifted its stake in vTv Therapeutics Inc (NASDAQ:VTVT) by 55.9% during the 1st quarter, according to the company in its most recent disclosure with the Securities and Exchange Commission. The firm owned 327,728 shares of the biotechnology company's stock after buying an additional 117,513 shares during the period. JPMorgan Chase & Co. owned approximately 1.00% of vTv Therapeutics worth $1,333,000 as of its most recent SEC filing. 2.34% of the stock is currently owned by hedge funds and other institutional investors.
WARNING: "vTv Therapeutics Inc (VTVT) Major Shareholder Buys $2,499,999.67 in Stock" was originally published by Daily Political and is the property of of Daily Political. If you are viewing this report on another website, it was illegally copied and republished in violation of U.S. and international copyright law. The original version of this report can be accessed at https://www.dailypolitical.com/2018/11/08/vtv-therapeutics-inc-vtvt-major-shareholder-buys-2499999-67-in-stock.html.
vTv Therapeutics Company Profile
vTv Therapeutics Inc, a clinical-stage biopharmaceutical company, discovers, develops, and sells orally administered small molecule drug candidates worldwide. The company's drug candidates comprise azeliragon (TTP488), an orally administered, small molecule antagonist targeting the receptor for advanced glycation endproducts, which is in Phase III clinical trials for the treatment of Alzheimer's disease.
Featured Article: Fundamental Analysis – How It Helps Investors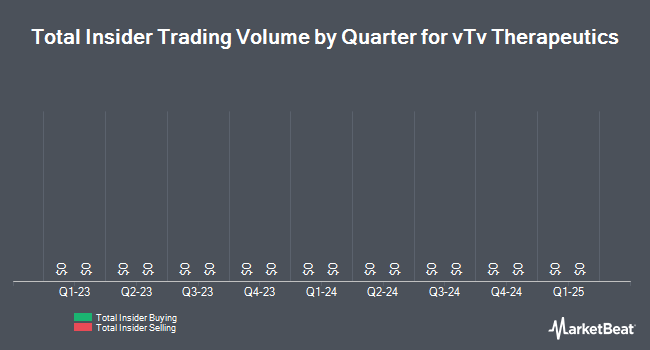 Receive News & Ratings for vTv Therapeutics Daily - Enter your email address below to receive a concise daily summary of the latest news and analysts' ratings for vTv Therapeutics and related companies with MarketBeat.com's FREE daily email newsletter.