ChemoCentryx Inc (CCXI) Insider Thomas J. Schall Sells 7,211 Shares of Stock
ChemoCentryx Inc (NASDAQ:CCXI) insider Thomas J. Schall sold 7,211 shares of the stock in a transaction dated Wednesday, November 7th. The shares were sold at an average price of $12.00, for a total value of $86,532.00. Following the completion of the transaction, the insider now directly owns 2,192,205 shares in the company, valued at $26,306,460. The sale was disclosed in a filing with the Securities & Exchange Commission, which is accessible through the SEC website.
Shares of CCXI stock traded down $1.65 during mid-day trading on Friday, reaching $10.05. The stock had a trading volume of 340,471 shares, compared to its average volume of 164,306. The company has a debt-to-equity ratio of 0.51, a quick ratio of 2.69 and a current ratio of 2.69. The firm has a market capitalization of $603.72 million, a PE ratio of 27.92 and a beta of 1.78. ChemoCentryx Inc has a 1-year low of $5.42 and a 1-year high of $15.08.
ChemoCentryx (NASDAQ:CCXI) last announced its quarterly earnings data on Thursday, November 8th. The biopharmaceutical company reported ($0.22) earnings per share for the quarter, beating analysts' consensus estimates of ($0.25) by $0.03. The business had revenue of $8.98 million for the quarter, compared to analyst estimates of $11.55 million. ChemoCentryx had a return on equity of 39.31% and a net margin of 18.69%. Sell-side analysts forecast that ChemoCentryx Inc will post -0.86 earnings per share for the current year.
CCXI has been the topic of a number of research reports. BidaskClub raised ChemoCentryx from a "hold" rating to a "buy" rating in a report on Thursday, August 30th.
ValuEngine
raised ChemoCentryx from a "hold" rating to a "buy" rating in a report on Wednesday, September 19th. B. Riley initiated coverage on ChemoCentryx in a report on Friday, September 7th. They issued a "neutral" rating and a $12.50 price objective on the stock. JPMorgan Chase & Co. lowered ChemoCentryx from an "overweight" rating to a "neutral" rating and increased their price objective for the company from $14.00 to $15.00 in a report on Tuesday, August 14th. Finally, HC Wainwright reissued a "buy" rating and issued a $20.00 price objective on shares of ChemoCentryx in a report on Monday, August 13th. Five research analysts have rated the stock with a hold rating, three have assigned a buy rating and one has given a strong buy rating to the company's stock. The stock has an average rating of "Buy" and an average price target of $16.58.
Institutional investors have recently bought and sold shares of the stock. Sei Investments Co. grew its holdings in ChemoCentryx by 203.5% during the second quarter. Sei Investments Co. now owns 8,549 shares of the biopharmaceutical company's stock worth $113,000 after acquiring an additional 5,732 shares during the period. Macquarie Group Ltd. acquired a new stake in ChemoCentryx during the second quarter worth about $130,000. grace capital acquired a new stake in ChemoCentryx during the second quarter worth about $132,000. Dynamic Technology Lab Private Ltd acquired a new stake in ChemoCentryx during the first quarter worth about $153,000. Finally, Paloma Partners Management Co acquired a new stake in ChemoCentryx during the second quarter worth about $159,000. 53.18% of the stock is currently owned by hedge funds and other institutional investors.
COPYRIGHT VIOLATION NOTICE: This report was first published by Daily Political and is the property of of Daily Political. If you are accessing this report on another site, it was illegally copied and reposted in violation of United States & international copyright & trademark legislation. The correct version of this report can be read at https://www.dailypolitical.com/2018/11/10/chemocentryx-inc-ccxi-insider-thomas-j-schall-sells-7211-shares-of-stock.html.
ChemoCentryx Company Profile
ChemoCentryx, Inc, a clinical-stage biopharmaceutical company, develops new medications for inflammatory and autoimmune diseases, and cancer in the United States. The company targets the chemokine and chemoattractant systems to discover, develop, and commercialize orally-administered therapies. Its lead drug candidate is Avacopan, an orally-administered complement inhibitor of the complement C5a receptor (C5aR), is in Phase III development for the treatment of anti-neutrophil cytoplasmic auto-antibody-associated vasculitis (AAV).
See Also: Buyback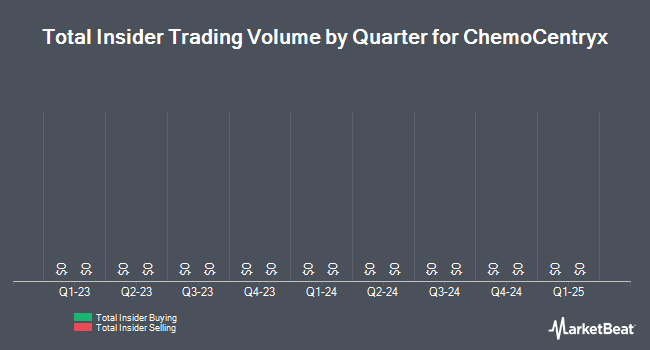 Receive News & Ratings for ChemoCentryx Daily - Enter your email address below to receive a concise daily summary of the latest news and analysts' ratings for ChemoCentryx and related companies with MarketBeat.com's FREE daily email newsletter.