Black Diamond Group Ltd to Post FY2018 Earnings of ($0.16) Per Share, National Bank Financial Forecasts (BDI)
Black Diamond Group Ltd (TSE:BDI) – Investment analysts at National Bank Financial dropped their FY2018 earnings per share estimates for shares of Black Diamond Group in a research note issued to investors on Wednesday, November 7th. National Bank Financial analyst G. Colman now forecasts that the company will post earnings of ($0.16) per share for the year, down from their previous forecast of ($0.10). National Bank Financial currently has a "Sector Perform" rating and a $4.50 target price on the stock. National Bank Financial also issued estimates for Black Diamond Group's FY2019 earnings at ($0.07) EPS and FY2020 earnings at ($0.08) EPS.
BDI has been the subject of several other research reports. CIBC increased their price objective on shares of Black Diamond Group from C$1.50 to C$2.75 in a research report on Friday, July 20th. BMO Capital Markets restated a "hold" rating and issued a C$3.50 target price on shares of Black Diamond Group in a report on Wednesday, November 7th. Finally, Royal Bank of Canada raised their target price on shares of Black Diamond Group from C$3.00 to C$4.25 and gave the stock a "sector perform" rating in a report on Friday, August 10th.
BDI stock
opened at C$2.42 on Monday. Black Diamond Group has a 52 week low of C$1.99 and a 52 week high of C$3.96. The company has a current ratio of 1.08, a quick ratio of 0.92 and a debt-to-equity ratio of 37.53.
About Black Diamond Group
Black Diamond Group Limited rents and sells workspace and modular workforce accommodation solutions. It operates through four segments: BOXX Modular, Black Diamond Camps & Lodging, Black Diamond Energy Services, and Black Diamond International. The BOXX Modular segment provides modular space rentals to customers in construction, real estate development, manufacturing, education, financial institutions, resource industries, and government agencies in North America.
Further Reading: How to Invest in an Index Fund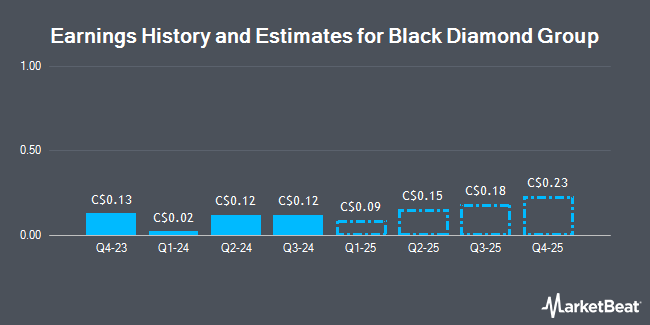 Receive News & Ratings for Black Diamond Group Daily - Enter your email address below to receive a concise daily summary of the latest news and analysts' ratings for Black Diamond Group and related companies with MarketBeat.com's FREE daily email newsletter.