Concordia International (CXRXF) Lowered to Hold at Zacks Investment Research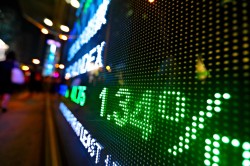 Zacks Investment Research lowered shares of Concordia International (OTCMKTS:CXRXF) from a buy rating to a hold rating in a report released on Tuesday morning.
According to Zacks, "Concordia International Corp is a diverse pharmaceutical company which focused on legacy pharmaceutical products and orphan drugs. The company also markets orphan drugs through its Orphan Drug Division, currently consisting of Photofrin(R) for the treatment of certain rare forms of cancer, which is currently undergoing testing for potential new indications. Concordia International Corp, formerly known as Concordia Healthcare Corp, is headquartered in Oakville, Canada. "
Separately, ValuEngine raised Concordia International from a hold rating to a buy rating in a research report on Thursday, November 1st.
Shares of
OTCMKTS:CXRXF
opened at $20.01 on Tuesday. Concordia International has a 52 week low of $16.00 and a 52 week high of $68.40.
Concordia International Company Profile
Concordia International Corp., a specialty pharmaceutical company, through its subsidiaries, owns or licenses a portfolio of branded and generic prescription products. The company operates through two segments, Concordia International and Concordia North America. The Concordia International segment owns or licenses a portfolio of branded and generic prescription products to wholesalers, hospitals, and pharmacies.
Featured Article: What Is An Exchange-Traded Fund (ETF)?
Get a free copy of the Zacks research report on Concordia International (CXRXF)
For more information about research offerings from Zacks Investment Research, visit Zacks.com
Receive News & Ratings for Concordia International Daily - Enter your email address below to receive a concise daily summary of the latest news and analysts' ratings for Concordia International and related companies with MarketBeat.com's FREE daily email newsletter.