HC Wainwright Increases Largo Resources (LGO) Price Target to C$5.10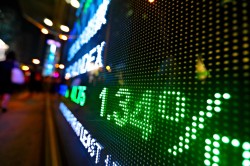 Largo Resources (TSE:LGO) had its price objective upped by HC Wainwright from C$5.00 to C$5.10 in a report issued on Wednesday morning.
Separately, Morgan Stanley reiterated an overweight rating and issued a C$6.00 price target on shares of Largo Resources in a research note on Wednesday, October 24th.
TSE:LGO opened at C$3.99 on Wednesday. Largo Resources has a one year low of C$0.83 and a one year high of C$4.65. The company has a quick ratio of 0.47, a current ratio of 1.26 and a debt-to-equity ratio of 198.17.
Largo Resources (TSE:LGO) last posted its quarterly earnings results on Tuesday, November 13th. The company reported C$0.11 EPS for the quarter, hitting the Zacks' consensus estimate of C$0.11. The firm had revenue of C$149.46 million during the quarter. On average, research analysts predict that Largo Resources will post 0.5 EPS for the current year.
About Largo Resources
Largo Resources Ltd., a natural resource development and exploration company, engages in the acquisition, exploration, and development of mining and exploration properties located in Brazil and Canada. The company primarily explores for vanadium, iron, tungsten, molybdenum, chromite, palladium, and platinum group metals.
See Also: Dollar Cost Averaging
Receive News & Ratings for Largo Resources Daily - Enter your email address below to receive a concise daily summary of the latest news and analysts' ratings for Largo Resources and related companies with MarketBeat.com's FREE daily email newsletter.